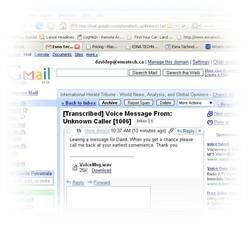 Adding the powerful and accurate PhoneTag voice-to-text services to our unified communications platform positions us again as a market and thought leader in this space
Richmond Hill, Ontario, Canada (PRWEB) June 5, 2008
Esna Technologies Inc. (Esnatech) a market leader in enterprise unified communications and PhoneTag, formerly known as SimulScribe, the largest provider of voicemail-to-text services and visual voicemail applications, today announced that they have partnered together to deliver full voice-to-text transcription services for users of the Telephony Office-LinX unified communications platform. The Telephony Office-LinX platform from Esnatech provides the seamless unification of telephony, mobility, messaging, and enterprise presence that enable companies to cost effectively change they way they communicate from latent inbox response to proactive real time live communication. Now they will be adding the ability for users to read their voicemail and recorded conversations from email and wireless email devices by embedding the market leading technology services from PhoneTag.
A leading provider of unified communications solutions, Esnatech has long been a pioneer in enterprise messaging and communications. Merging the power of the Esnatech application server with the advanced functionality of PhoneTag's speech to text services makes the Telephony Office-LinX platform the most complete platform in the industry today, offering a wide range of out-of-the-box unified communication applications such as unified messaging, fixed to mobile convergence, enterprise presence, instant messaging, SMS messaging, fax server, IVR, speech recognition call routing, and now automated voice-to-text transcription services in a simple single platform solution.
"Adding the powerful and accurate PhoneTag voice-to-text services to our unified communications platform positions us again as a market and thought leader in this space," said Davide Petramala vice president of sales and marketing at Esnatech. "Unified communications is much more then IP telephony! It's about applications and enabling better business process and practices. The idea of transcription for voice delivers immediate high value to our customers. It extends access to anywhere and provides a critical element to solve many business issues around compliance, security, archiving, and business process. I can seamlessly move messaging and conversations right into a business EDI process such as order confirmations and data collection. This is as huge as it is a simple extension to the unified communications platform and works with an organizations existing phone system and email infrastructure."
"Esnatech is a highly innovative provider of unified communications and we are thrilled that they selected PhoneTag as their voice-to-text partner," said James Siminoff, Founder and CEO of PhoneTag. "PhoneTag's voicemail-to-text service fits perfectly with the high quality unified communication service Esnatech already provides to a wide range of enterprises, making this a win, win for both companies."
Adding the PhoneTag services to the Telephony Office-LinX platform will extend visual messaging capabilities to their already robust unified messaging services that interoperate with all the major GroupWare solutions such as MS ExchangeTM, IBM Lotus DominoTM, Novell GroupWiseTM and GoogleTM applications.
The new speech to text services will be available as beta for all esnatech customers starting in June 2008. It will be part of the Telephony Office-LinX version 7.1 service pack 5
The Esnatech Telephony Office-LinX platform is already tightly integrated with Microsoft Windows, MS Exchange, IBM Lotus Domino, Novell GroupWise, Research in Motion Blackberry, Nokia devices, and MS windows mobile devices. The gateway server can be administered directly from an organization's Microsoft Management Console or through Terminal Services over the web. Users can be managed through Active Directory and Group Policy.
About PhoneTag
PhoneTag's award winning service enables users to read their voicemail, saving time and money. Users can unify all phone numbers for automatic transcription and delivery without changing any phone numbers. PhoneTag provides unlimited voicemail box storage and has a transcription accuracy of over 95 percent. PhoneTag's service works with all wireless and wire-line network providers, including AT&T, Alltel, Cincinnati Bell, Sprint, Skype, T-Mobile, Verizon, Virgin, Rogers and over 50 more. New users can sign up at http://www.PhoneTag.com.
About Esnatech
Founded in 1989, Esnatech's mission is to provide communication solutions that are simply the best way to communicate! Esnatech solutions empower organizations by giving them the flexibility to conduct business at any time, from anywhere, so they can manage the information they need, when they need it. Esnatech markets and distributes their products through OEM and VAR partners in 28 countries worldwide. http://www.esnatech.com
Note to editors: If you are interested in viewing additional information on Esnatech, please visit the Esnatech Web page at http://www.esnatech.com on Esnatech's product pages. Web links, telephone numbers and titles were correct at time of publication, but may since have changed. For additional assistance, journalists and analysts may contact Esnatech's Marketing department at Marketing @ esnatech.com. Microsoft Live Communication Server, Windows, Exchange, Office & Terminal Services are registered trademark of Microsoft Corporation
###