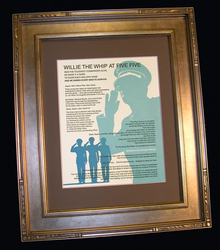 The Salute is a combination of heartfelt sentiment, personal history and custom artwork all rolled up into one. I call it the ultimate greeting card
LaGrange, NY (PRWEB) June 3, 2008
Have something to say to Dad this Father's Day? Why not say it with art? The creative folks at Living Celebrations want to help you do just that. Today, the company released their newest biographical art offering, the Salute, designed to turn your words into a personalized piece of art made just for Dad.
"The Salute is a combination of heartfelt sentiment, personal history and custom artwork all rolled up into one. I call it the ultimate greeting card," says Sheryl Entwistle, owner and president of Living Celebrations. "It is a way for people to show their loved ones just how much they mean to them, while preserving a bit of family history at the same time."
This is how it works: customers first send the company a personally written note, essay, poem, or one-page story about Dad (up to 500 words). Living Celebrations' editorial staff checks it over to make sure every I is dotted and every T is crossed. Then the company's team of artists turns those words into a personalized piece of art by incorporating letterpress printing, archival-quality handmade papers, and original illustrations, all professionally framed for presentation.
At a loss for words? Don't worry. The company also has a team of professional writers ready to assist anyone who needs a little help in that department.
A cool $1,500 buys you this tailor-made tribute for Dad. But unlike a traditional greeting card or store-bought gift, the personalized artwork is not likely to disappear once the holiday is over.
"I hope people will start thinking of holidays like Father's Day as opportunities to preserve their family stories," says Entwistle. "When their stories are memorialized they can then be passed down to the next generation as a heritage," she adds.
The company's other offerings include their mid-range Legacy Pieces priced around $5,000, and high-end life tribute Masterpieces that cost $25,000 and up.
Living Celebrations has been handcrafting life story tributes for clients around the country since 2004. Their biographical art pieces are custom-created by the company's team of award-winning artisans to reflect the lives and tastes of the persons who receive them. The company's website, http://www.livingcelebrations.com, offers visitors the opportunity to view a gallery of biographical art as well as meet the company's creative team.
For more information about Living Celebrations, please visit http://www.livingcelebrations.com.
Media Contact:
Laurel Hostetler
Living Celebrations
845-454-5110
# # #