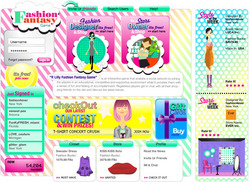 America's Next Top Model
New York, NY (PRWEB) June 3, 2008
Americans give to charities at a higher rate than any other country in the world - $3B in 2007 alone. In order to sustain this, the tradition of giving is promoted at a young age throughout society and corporate cultures. At http://www.fashionfantasygame.com, the virtual world where tweens learn about business, this tradition is being integrated in game play as well as in real life. For http://www.fashionfantasygame.com, charitable giving is Business as Usual.
The Fashion Fantasy Game is developing concepts and activation that leverages its platform as a unique responses to charitable fund-raising and providing opportunities for marketing partnerships. The developers customize the unique design tool kit at the center of the game play to create a seamless integration of fund-raising concepts as well as brand integration that allows players to be immersed in brand concepts in a heightened, experiential manner. While parents debate the impact of fashion in such shows as "Gossip Girl" and "America's Next Top Model" on a young audience, The Fashion Fantasy Game shows how a focus on fashion can also contribute to a better good.
In the first foray of its kind, http://www.fashionfantasygame.com joined forces on May 22nd with Babesta, a hip store for young kids, to raise funds for Ronald MacDonald House. The event was inspired by the Metropolitan Museum of Art's Costume Institute Exhibition, Super Heroes: Fashion and Fantasy. For a donation, The Fashion Fantasy Game entertained guests with a specially designed tool kit that let them create "Super-Inspired" Virtual capes. The event was a great success with thousands of dollars going to help the Ronald MacDonald House Charity.
While the theme of Super Heroes was a perfect fit for these on-line "masters of industry", the idea of exposing players to the necessity of charitable giving is a serious concern of the developers. "At our first event, a fashion show at Bloomingdale's, our parent company, R. Lilly Tuckerwear, made the NYU Child Study Center their primary beneficiary," noted Nancy Ganz, Founder and CEO. "Since the beginning, we have set an example for our players and their parents that we realize the benefits and importance of this activity in our own business."
To further this point the Fashion Fantasy Game is taking their dress-up game beyond the formula of Bratz and Barbie websites and launching R. Gives. At R. Gives players will make donations (Fashion Buckz) in the R. Lilly Cafe to the charities and causes for which they care the most. In addition, they will be able to make suggestions to the Fashion Fantasy Game Team of other charities to be considered as part of this effort. The idea behind this game play is to expose the players to great causes and to the fact that businesses are important sources of charitable giving.
Each month, the player who is the most generous will have a real donation made in their honor. "These players will be working hard to raise the money they need to run their businesses and to be in a position to be able to give back to charity," adds Nancy Jackson Hodin partner and CMO, "and we want them to realize that there are real tangible benefits to giving back to the world in which they live."
About R. Lilly Tuckerwear, Inc.
R. Lilly Tuckerwear.com and The Fashion Fantasy Game.com are safe and secure virtual worlds and social networks geared to tweens, focused on peer-to-peer communications, confidence building and learning.
# # #