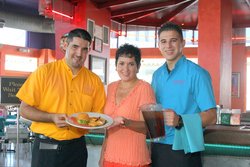 Best Restaurant to Take Out-of-Town Guests
San Antonio, TX (PRWEB) June 3, 2008
At 18, local restaurateur Lisa Wong took the $7,000 her parents had saved up for her college education and opened up her first restaurant on the city's West Side called Lisa's Mexican Restaurant (1981). It was an instant success. For decades Lisa's was known for having some of the best breakfast tacos in the city.
Today, Wong, 46, is a restaurateur in a city where Mexican restaurants abound in nearly every neighborhood. Over the years, her restaurants have consistently ranked at the top among food critics, and have received rave reviews from national, state and local media.
The San Antonio Express-News' 10th annual Readers' Choice Awards, which hit the newstands recently, allows readers to be the critics for a change and rave about their favorite dining spots in San Antonio. And the verdict is in: Rosario's is number one in their stomachs. Readers and critics alike have voted Rosario's "Best Mexican Restaurant" in San Antonio.
Rosario's (http://www.rosariossa.com) is Wong's second restaurant, which she rescued from bankruptcy court in 1992. It is located in the historic King William District. The local hot spot caters to a variety of customers, from the really hip and cool to tourists to the white and blue collar crowd.
"It's quite an honor. I am humbled," said Wong. "It's hard to imagine how far we've come from a little taco house on West Commerce Street to the success of Rosario's."
Wong appreciates her customers' support especially during the current economic turbulence many of the nation's businesses are facing. "I know my customers have many choices when dining out and I appreciate their continued patronage," she said.
Readers also voted Rosario's for having the "Best Salsa." Other awards include: second place for "Best Restaurant to Take Out-of-Town Guests" and third place for "Best Enchiladas" and "Best Margaritas." For a complete list of this year's winners, log on to http://www.mysa.com.
Wong's other restaurants include Rosario's at the San Antonio International Airport (2002), China Latina (2002) and Acenar (2004, http://www.acenar.com ).
###