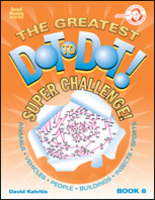 I like to keep my mind active. Kalvitis' puzzles have now been added to my selections of fun 'mind exercises.'
Rochester, NY (PRWEB) June 3, 2008
Move over crossword, word search, Jumble and even Sudoku puzzles! The Greatest Dot-to-Dot Super Challenge books, by David Kalvitis, are earning a place on the coffee table. Although the original goal was to entertain the "big kids," preteens and teens who are outgrowing the books and toys of childhood, these ultra-challenging connect-the-dot puzzle books are receiving a huge and unexpected response from the senior crowd. USA WEEKEND Frame Games author, Terry Stickels, states "Recent research now supports the use of puzzles and games to keep our minds sharp and flexible as we age, and seniors are responding to Kalvitis' dot-to-dots as a great new puzzle alternative."
The books are actually quite popular with the intended audience, and at school book fairs a crowd of children always gathers around to test sample puzzles. But for every fan letter dot-to-dot designer David Kalvitis (of Rochester, NY) receives from a child or teen, there are 10 more from senior citizens. Says Eleanor from Santa Rosa, California, "I purchased the book out of a catalog for my grandchildren and found it so fascinating that I've been doing the puzzles myself!" Kalvitis jokes, "I'm trying to start a dot-to-dot revolution (laughs)... or at least trying to change people's perception of dot-to-dots, they're not just for kids anymore!"
Kalvitis declares, "Adults are always telling me they loved dot-to-dots as a kid, but the Greatest Dot-to-Dot Books are the first available that an adult could actually find challenging." It may be that the numbers go into the hundreds (even 1,000s), or that the puzzles include multiple lines, coordinates, symbols, words, etc., that make them more challenging and interesting for the older crowd. "Who would've guessed that as an adult I would once again enjoy dot-to-dot activities in such a unique challenging way!" says Louise, a senior puzzle fan from DeRidder, Louisiana.
There are two key elements that Kalvitis says are "critical" in maintaining that older audience's enthusiasm:
First, you can't tell what the picture is before you start. "The most intriguing thing about the designer's work is the way the puzzle solver is directed to draw long lines in unexpected places that completely unbalance any preconceived ideas about what is being depicted," states reviewer Eleanor Heldrich of Children's Literature, about the Greatest Dot-to-Dot Books. Jane from Brandon, Florida sums it up simply, "I like how you don't know what the picture is till you're done."
Secondly, the final pictures are visually pleasing. "It takes an artist to take a simple children's puzzle, like connect-the-dots, and transform it into something worthy of mature, adult-worthy consideration. A real artist. And that's just what David Kalvitis is, an artist," writes Major Fun Award director Bernie DeKovan in his review. One adult fan in an email to Kalvitis wrote, "I'm inspired by the skill with which you make a bunch of dots turn into something beautiful!"
It's easy to see why seniors seek out and enjoy these remarkable dot-to-dot puzzles every bit as much as children. But it's even more than fun. Kalvitis says, "I'm absolutely amazed at the different ways people have discovered for using my books, from brain exercises to physical therapy." Research published in The New England Journal of Medicine in 2003 concluded that games and puzzles were among the leisure activities that help aging brains avoid dementia. Japanese neurologist Ryuta Kawashima believes the way to counter the negative mental effects of aging is to "work out the brain much like we work out the rest of our bodies." Keeping her mind sharp is important to Louise, "I like to keep my mind active. Kalvitis' puzzles have now been added to my selections of fun 'mind exercises.'"
And there's always the matter of filling our extra time as we age, especially if our bodies can't be as active as they once were. In a phone conversation with Kalvitis, one elderly lady from Ohio proclaimed "I am 83 years old and have Osteoporosis throughout my body. I love your books. I take the little ones with me to the doctor. If you were here I'd give you a hug and a kiss on the cheek."
For more information and free samples from the multi-award winning newly released Greatest Dot-to-Dot Super Challenge books, ($7.95, Monkeying Around) visit Monkeying Around home of the Greatest Dot-to-Dot Books or call 800-553-4300.
###