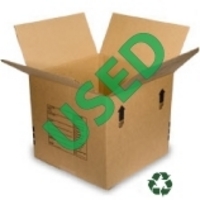 EcoBox's goal is to offer Americans the ability to make an environmentally responsible decision about how they move residences
Austin, TX (PRWEB) June 3, 2008
As the spring and summer months descend upon us, the real estate market starts to heat up. On average, one in five households moves their residence in the United States every year. And, with a low estimate of 25 boxes per move, Americans go through 2,750,000,000 moving boxes every year, which has a massive impact on the environment.
"EcoBox's goal is to offer Americans the ability to make an environmentally responsible decision about how they move residences," says Malone. "The beauty of it is that it requires no more effort to use our eco-friendly moving options than it does to do a traditional move. Not only can consumers feel good about what they're doing for the environment by reusing materials, they also spend about 40 percent less by doing it. We are striving to present consumer options that make it cheaper and easier to support environmentally sound alternatives to age-old practices."
EcoBox's solution to the problem is to buy and sell used moving boxes and materials. Last year, EcoBox participated in 15% of the moves in Austin, creating less of a need for new boxes to be manufactured, which ended up saving 107,178 boxes from entering Austin's landfill. With plans for franchise expansion, the impact to be had on the nation's landfills and resources is enormous.
"The amount of money, energy, and resources needed to produce these boxes is astronomical," says Dale Malone, Managing Partner, EcoBox. "Furthermore, a lot of the boxes produced for the moving industry end up in landfills, which causes further detriment to the environment. If all the moving boxes used last year in the United States were thrown away, it would encompass 113,267,000 cubic feet of land fill, and we would have used 21,318,000 trees, 35,110,746,000 gallons of water and 4,477,000 barrels of oil to produce them."
Because people are largely resistant to change, having corporations modify their products to suit the needs of the environment, while meeting the needs of their consumers, is one of the key ways to foster ecological responsibility.
About EcoBox:
EcoBox was founded in 1994 with a stack of used moving boxes, a Buick Riviera, a storage shed and a great idea. For the past 12 years, EcoBox has been selling used moving boxes and supplies while saving their customers money. EcoBox now stocks more than 150 different sizes of boxes, tape, bubble wrap, packing peanuts and hundreds of other items for moving and shipping. Each independently owned EcoBox store is part of a team whose goal it is to provide EXCELLENT service to the customer while helping to save our environment through recycling. Visit EcoBox at http://www.ecobox.com.
EcoBox
10615 Metric Boulevard, Austin, TX 78758, United States
(512) 836-7644
###