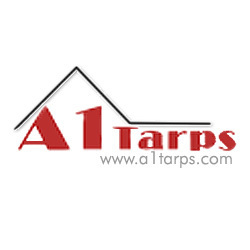 Los Angeles, CA (PRWEB) June 4, 2008
A1 Tarps, a California-based manufacturer of tarps and hurricane preparedness supplies prepares for "above average" 2008 hurricane season in the Atlantic basin with 15 named storms predicted between June 1st and November 30th.
Leading manufacturer of tarps, portable carports and canopies is preparing for what forecasters are calling an "above average" 2008 hurricane season in which no less than 15 named storms are expected to form along the southeast coast of the United States with as many a four forming into intense or major storms when winds will be in excess of 111mph. In the wake of major natural disasters including Hurricane's Katrina and Rita that cost billions of dollars in damage from heavy winds, rain and flooding people along the eastern seaboard of the US are stocking up on equipment and supplies to prepare for another active season of tropical storms and weather catastrophes. In the past hurricane seasons meant perhaps 8 or 9 named storms that would lead to one or two major hurricanes. Due to an increase in the Atlantic Ocean's salt content, which in turn causes an increase in water temperature, forecasters at Colorado State University have released a study warning that the 2008 hurricane season could produce as many as four major storms that could reap massive destruction from Florida to Massachusetts.
Realizing the need for disaster preparedness in light of hurricane predictions A1 Tarps has not only seen a solid increase in the demand for protective tarps and canopies but also a number of safety products including helmets, caution tape, shovels and first aid kits. Prior to major catastrophes including Hurricane's Hugo and Andrew most hurricane safety revolved around tape on the windows and canned goods. But as storms gather greater force and intensity the need for emergency preparedness has grown to include a multitude of products that can reduce damage, protect against rain and wind and even save lives. The cost for preparing for a major storm pales in comparison to the cost of cleaning up after one.
Tarps and safety kits are great for hurricanes but they are also excellent to have on hand for other major catastrophes including earthquakes, tornadoes, wildfires and other natural disasters. During the past month alone millions of people have been affected by a 7.2 magnitude earthquake in the Sichuan province in China, cyclone Nargis that tore through Myanmar, several tornadoes in the United States Midwest region and wildfires in Florida and California. Even before the news of these events subsided Tropical Storm Arthur lashed the coasts of Guatemala and Belize and has prompted tornado warning throughout Central America. Rescue teams do their best to respond to natural disasters as quickly as possible but there will be a period between when the disaster strikes and when help arrives. Having essential safety gear on hand can be the difference between life and death in the moments immediately following a natural disaster.
Solid, lightweight and durable, tarps have become standard safety gear in preparation for hurricanes and tropical storms that can be unpredictable, ferocious and catastrophic. Tarps are strong, water resistant and can be secured within minutes to protect assets and valuables from heavy wind and rain. Many researchers and emergency management teams will say that the most dangerous aspect of any major storm system is not having supplies on hand to deal with situations that can range from flooding to open wounds. Simply being prepared with basic first aid supplies, shovels and high visibility clothing can often mean the difference between life and death. In the face of a major natural disaster many smaller accidents occur from panic and chaos among people scurrying for shelter and safety. Having flood lights, safety orange vests and caution tape can alert rescue teams, the police and others of your location and can lead to a speedy evacuation.
As the 2008 hurricane season approaches A1 Tarps expects the demand for tarps and hurricane supplies to increase significantly as more people are becoming aware of the need for emergency preparedness. News teams and forecasters are also becoming much more adept at predicting storm landfalls and informing the public in advance of major storm systems that used to go unnoticed. With more information available and enough lead time people are now able to take necessary precautions to protect lives and property from intense hurricanes, cyclones and tropical storms.
# # #