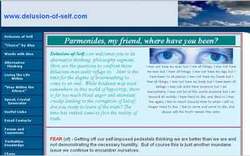 This Web site offers everyone the opportunity to review the philosophical basis for my upcoming book on the struggle that each one of us has with our delusions, as well as our chances to break free of them
Scottsdale, AZ (PRWEB) June 3, 2008
After retiring from a 30-year career as a research scientist, author MJ Paterna has focused his attention on helping people gain greater inner peace by revealing the spiritual, psychological and social factors that lead to negative delusions. In his upcoming book "Delusion of Self," Paterna uses the principles of alternative thinking and the Universal Law to illustrate how anyone can free themselves of burdensome thoughts and emotions while expanding their consciousness.
Though the publication date of "Delusion of Self" is still undetermined, Paterna has made it possible for interested readers to get a sneak peek of his writing from his Web site, delusion-of-self.com. The site features several essays covering topics like the constant availability of choice to mankind, the foundations of alternative thinking and the ways in which religious dogma can create and nurture a deluded state of mind.
"This Web site offers everyone the opportunity to review the philosophical basis for my upcoming book on the struggle that each one of us has with our delusions, as well as our chances to break free of them," Paterna says.
The beliefs and philosophies referenced throughout the essays on delusion-of-self.com draw from several sources, including the Universal Law popularized by the 18th century German philosopher Immanuel Kant. A common thread among all of the philosophical approaches used in the essays is that they share the aim of expanding the consciousness and arriving at incontrovertible truth.
Paterna's writings also deliver critical and analytical discussions of religious dogma. He asserts that the period of spiritual growth that is currently taking root is incompatible with traditional and popular dogma, in part because the dogmatic structure provides the ideal environment in which delusions can thrive.
In addition to previews of "Delusion of Self," delusion-of-self.com also features a forum section where readers and philosophers can engage in mutual enlightenment and debate on topics relating to the consciousness, the universe and man's struggle with delusion.
To learn more about the Universal Law, Paterna's analysis of delusion and his upcoming book, "Delusion of Self," please visit delusion-of-self.com.
About "Delusion of Self":
"Delusion of Self" is an upcoming book by author MJ Paterna that focuses on man's tendency toward self-delusion and the understanding required to break free from those delusions. Through discussions of alternative thinking methods and challenges to the long-established traditions of mainstream religion, Paterna hopes to help his readers remove the barriers to their higher consciousness. Excerpts from "Delusion of Self" and essays inspired by the book's content are available online at no cost on delusion-of-self.com.
###