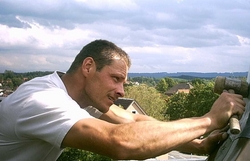 As an American myself, I can say that we have, in general, a very disposable mindset
Orem, UT (PRWEB) June 3, 2008
Erno Ovari, copper and fine metal roofing artisan of Copper Exclusive http://www.copperexclusive.com brings his wealth of education and experience crafting the roofs, spires and details of award winning castles, cathedrals, and notable European buildings to the United States.
Ovari began his career in metal craft in 1985. He has experience in Germany, Austria, Hungary and Switzerland as well as 11 years of intensive education in this trade. He achieved the degree of "Meisterbrief", the highest contractor certification in Europe. More than 50% of all applicants who take the Meisterbrief test do not pass. Ovari says he is aware of fewer than five individuals in the entire United States with this certification.
Ovari recently introduced his business, Copper Exclusive, to the United States. Copper Exclusive not only brings Ovari's superlative craftsmanship, it provides an online shopping service for contractor and private owner alike to find everything from copper and zinc ornamental items such as finials and decorative dormers, to specialty screws to snow guards; all of which are European made. Ovari says he only carries products he uses himself.
Ovari believes foremost in technically correct building principles. He has never used caulk or any variety of sealant on his projects as he asserts copper roofing should last for generations. Ovari says he stands behind every detail of his work and that he has never had a complaint in his 22 years as a "Spenglermeister" (master copper and fine metal roofer) and wants to keep it that way.
"I've seen many, many multi-million dollar homes here in the U.S. with copper roofs of substandard craftsmanship. In fact I see precious few that a European building inspector would pass," says Ovari. "These are basic violations. Nothing nit-picky."
"As an American myself, I can say that we have, in general, a very disposable mindset," says Christina Lauritzen, Copper Exclusive's marketing director. "Americans are good at so many things, but need to improve in a few, too. We tend to look for instant, drive through results and the cheapest bottom line regardless and forget about the severe consequences. It's our goal at Copper Exclusive to change that way of thinking. For a select handful of American craftsmen, we're preaching to the choir, but we've got a lot of evangelizing to do."
Ovari adds, "Anyone can make nice pictures, from a distance of 200 feet, about their work and say, 'we do quality work.' Pictures from 200 feet cannot reference quality workmanship on any sector of the building. We bring something you cannot find here; meticulous quality based on compulsory tests and stringent rule-based systems which have been in place in Germany for more than a thousand years. Germans adhere to a strict standard of regulations and codes unrivaled anywhere else in the world."
For additional information on Erno or Copper Exclusive, please contact Christina Lauritzen or visit http://www.copperexclusive.com.
Copper Exclusive constructs and designs decorative and functional copper, zinc, and stainless steel roofs with unique details of German quality. Copper Exclusive crafts custom finials and ornaments, is expert in snow abatement solutions and snow guard placement, and specializes in complex and difficult details and designs. Copper Exclusive concentrates on both new and historic buildings and applies the old-world traditional methods handed down by the masters for generations, but uses the latest modern improvements and techniques to achieve a truly one-of-a-kind service.
Contact:
Christina Lauritzen, marketing director
Copper Exclusive
801-400-2515
http://www.copperexclusive.com
###