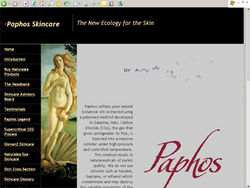 The Paphos Giovan2 System is therapeutic for the skin, but it also gives a 'feel-good' sensation to those who use it
Fort Lauderdale, FL (PRWEB) June 3, 2008
As the antiaging skin care treatment market has become more competitive, more customers have begun turning to medi-spas for professional, hands-on treatments. However, many surgical and non-surgical treatments offered by medi-spas involve recovery periods that can be inconvenient for clients accustomed to at-home treatments. Paphos Skincare has responded to medi-spas' needs for non-surgical, fast-recovery natural organic skin care treatments by introducing its Giovan2 Professional Skincare System.
It takes only 45 minutes for a medi-spa professional to administer the entire organically pure microdermabrasion, skin resurfacing treatment, and http://www.paphos-skincare.com/testimonials.html organic face cream and clients that use the Giovan2 System feel and see immediate results. There is no need for a recovery period, so clients can leave their spas directly after the treatment without experiencing any negative side effects.
"The Paphos Giovan2 System is therapeutic for the skin, but it also gives a 'feel-good' sensation to those who use it," explains Dr. Gary Weinberger, MD, FACS, Executive Director of Paphos Skincare.
The Giovan2 System is made from certified organically pure skin care botanical oils, certified organically pure, that have been extracted using a patented process developed in Italy. This supercritical carbon dioxide fluid extraction process removes the residual oils left behind by standard extraction processes, preventing the antioxidant benefits of the Giovan2 System from being offset or diminished by the presence of contaminants.
"Europeans have always been on the forefront of non-surgical skin improvement procedures," says Dr. Larry Pollack, MD, FACS, Chairman of the Advisory Committee for Paphos Skincare. "The Giovan2 System melds the traditional Italian system with American know-how to offer medi-spas a complete, convenient skincare solution."
Because the Giovan2 System organic face cream has been designed for application by qualified medical estheticians, it is currently being marketed directly to professional medi-spas, Dermatologists, and Plastic Surgeons. Paphos Skincare representatives are now demonstrating the Giovan2 System by performing the treatment on doctors and their employees at medi-spas throughout the United States and Europe. To date, 97% of the medi-spas that have received the demonstration have ordered and continue to offer the Giovan2 System.
To learn more about the Giovan2 Professional Skincare System and Paphos Skincare's other natural organic skin care products, please visit paphos-skincare.com.
About Paphos Skincare:
Paphos Skincare is a leading developer of all-natural organically pure skin care products. By using the purest ingredients and patented methods in the development of their products, their skincare specialists eliminate the damaging solvents that create oily residue on the skin. Paphos Skincare supplies the Giovan2 Professional Skincare System to top medi-spas and plastic surgeons throughout the United States.
# # #