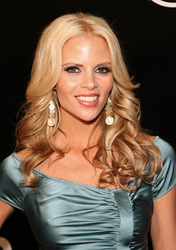 Dogs in Danger is a very worthy organization and one we couldn't be happier to align with.
Hollywood, CA (PRWEB) June 3, 2008
Barking up a storm, reality television's elite and their pooches will be hobnobbing at Michael Scott's stunning Beverly Park estate in support of Reality Cares' 'The Dogs Next Door' event benefiting DogsInDanger.com on Saturday, June 14th. Dogs In Danger is an animal welfare organization, which was recently featured on 'Oprah!' for their work in raising awareness of the number of dogs being killed in shelters and helping to save their lives through pet adoption. 'The Dogs Next Door' is an exclusive Hollywood celebrity event, hosted by Dogs In Danger spokesperson Shana Wall of "The Amazing Race." Actor Jai Rodriguez, star of Animal Planet's "Groomer Has It," will emcee a Doggy Fashion Show featuring some of the dogs saved from euthanasia by DogsInDanger.
"Every four seconds a dog is needlessly euthanized in our country alone, simply due to lack of space in our shelters. When I learned about the mission of Dogs in Danger I jumped at the opportunity to be their national spokesperson," states Shana Wall. "My hope is that our fundraiser brings awareness to this issue so that we can continue to save these dogs from their otherwise tragic fates."
Current confirmed celebrities to attend are: Ryan Seacrest, Lisa Rinna & Harry Hamlin, Illeana Douglas, Linda Blair, Maria Menounos, James Madio, Ariel Winters, Brittney Gastineau, Karina Smirnoff, Rebecca Cardon, Tian Kitchen, Mike O'Hearn and Lisa Foxx.
'The Dogs Next Door' is a family-friendly event, open to the public with a limited number of tickets available for purchase. Attendees are encouraged to bring their bathing suits and splash around in the pool or take a rejuvenating dip in the mineral bath. Fun activities for kids include an arcade game room, bowling alley, pool table and so much more. Guests of the private estate will delight in the breathtaking views and enjoy having their fortune read while sipping on cocktails and rocking out to music by DJ Dimitri Hamlin.
"Reality Cares is proud to be supporting Shana Wall in her efforts to raise money and awareness for Dogs in Danger," states Todd Michael Krim, founder of Reality Cares. "Dogs in Danger is a very worthy organization and one we couldn't be happier to align with."
So, mark your calendars for Saturday, June 14th! Come out and have some fun from 12:00 pm - 5:00 pm all in the name of charity. Tickets can be purchased online by clicking here.
'The Dogs Next Door' event is sponsored by MULtieMEDIA, World Black Belt, KO Fitness Recovery Drink, Joico, Lulu Leashes, Lotus Vodka, Damrak Gin, Viva Beads, Pearl Events, Conscience Entertainment Group and Xtra PR.
About Dogs in Danger
DogsInDanger.com was launched in October 2007 with the goal of getting as many shelter dogs adopted into loving homes as possible, before their time runs out; and raising awareness of the number of dogs being killed in shelters. DogsInDanger.com believes in the power of compassion, and that Americans would do more to help and adopt shelter dogs, if only they knew how many dogs shelters were forced to euthanize. Simply put, we have chosen a path of technology as a means of connecting these scared, abandoned shelter dogs with the loving homes they deserve. As a nonprofit organization, we seek no other gain except for the happiness we see in the face of a dog as he faithfully walks out through the shelter doors, in perfect step with his loving new family. Please visit: http://www.DogsinDanger.com.
About Shana Wall
Shana Wall has traveled the world extensively and lived in Florence, Italy. She toured with Luis Miguel as a back-up singer/dancer in his 1997 & 2004 tours across South America, Mexico, Spain and the US. As an actress, she had a recurring role on ABC's 'Port Charles' as Nurse Summer, and has guest starred in television shows such as 'Las Vegas' alongside James Caan & Josh Duhamel, 'Entourage', 'Nip/Tuck', and 'Shark' alongside James Woods. She was most recently seen competing on this season of CBS's Emmy-winning show 'The Amazing Race'. Shana has always loved animals, growing up with rescued dogs, cats, rabbits, turtles, birds and any other creature she came across in need. She has rescued dogs from freeways, streets and even spent much time feeding starving dogs in South America. Her love of animals brought her to team up with Dogs In Danger, an organization that is very close to her heart. She is now their spokesperson and spends any free time trying to help save dogs from needlessly being euthanized. For more information please visit: http://www.thehotdishtv.com/.
About Reality Cares
Reality Cares was founded in 2004 with the support of members of the reality television community to respond to some of the most critical issues facing the world today. Reality Cares has helped raise awareness and funds for important causes such as HIV/AIDS research & education, disaster relief, creative arts, drunk driving, and more. Please visit: http://www.RealityCares.org.
For Media Inquiries Please Contact:
Jim Strzalkowski
Managing Director
Xtra Public Relations
Office: (818) 761-9582 x236
jim @ xtrapr.com
###