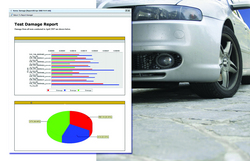 Large enterprise customers like Chrysler can confidently store their data, then mine and visualize large data streams in an interactive web browser environment, resulting in greater productivity gains across the corporation
Southfield, MI (PRWEB) June 4, 2008
nCode, a leading developer of data analysis software, data acquisition systems and fatigue and durability solutions, announced today that Chrysler LLC has mandated ICE-flow Library as its Road Load Data Management System corporate wide. In use for 2 years, ICE-flow Library is now being used exclusively by its test engineers and multi-body dynamic analysts for uploading and managing test data. In addition, engineers in the test groups and CAE community are now downloading and using ICE-flow Library as the gateway to accessing all test data.
"Large enterprise customers like Chrysler can confidently store their data, then mine and visualize large data streams in an interactive web browser environment, resulting in greater productivity gains across the corporation," said Kevin Knill, ICE-flow Library and ICE-flow Automation Product Manager. "ICE-flow Library is well suited to Chrysler's requirements."
Within the Chrysler system, ICE-flow Library is used to specify test requirements, validate collected data and process the data as it is stored. Library also generates and stores channel statistics and additional reduced data that can be used in their product development process.
About nCode International
nCode is a leading developer of durability, test and measurement, data analysis, asset monitoring, and product design (CAE Durability) solutions. nCode offers a unique combination of data measurement and acquisition instruments, powerful analysis software, and services that help customers eliminate unexpected failures by measuring and converting durability, performance and operational data into information from which decisions can be made that improve Product Lifecycle Performance (PLP). Established in 1982, nCode has direct offices in Europe, North America, and Asia. For more information about nCode, please visit http://www.ncode.com
nCode products include: ICE-flow GlyphWorks, Automation and DesignLife, SoMat eDAQ, and eDAQ-lite. The nCode Logo, nCode, ICE-flow GlyphWorks, ICE-flow Library, ICE-flow Automaton, ICE-flow DesignLife, SoMat eDAQ, and eDAQ-lite are trademarks or registered trademarks of nCode International Corporation in the USA and/or other countries.
###