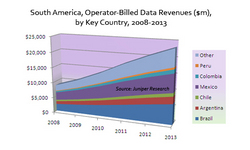 Hampshire, UK (PRWEB) June 4, 2008
Increasing adoption of messaging and content services is expected to push operator-billed data revenues in South America from $8.7 billion in 2008 to more than $23.3 billion by 2013, according to a new report from Juniper Research.
The report found that as voice revenues are coming under ever-increasing pressure from competitive pricing and regulatory intervention, operators are seeking to enhance their portfolios of on-portal content. However, it also cautioned that excessive retail price points and data download costs were continuing to restrict the development of rich media services across the region.
According to report author Dr Windsor Holden, "Although we've witnessed a quite remarkable surge in subscriber growth across the region over the past three years, South America continues to lag behind the rest of the world in terms of its uptake of non-voice services. And while this can in part be attributed to the historical difficulties around interoperability which delayed mass adoption of SMS services, it is also fair to say that the high cost of games, browsing and mobile video has acted as a significant inhibitor to growth".
Nevertheless, the report expressed optimism that costs would fall and adoption rates rise, with rich media content usage likely to receive a further boost as operators' recently launched 3G services steadily gain subscribers.
Other findings from the Juniper report include:

The South American mobile user base is expected to rise from 411 million in 2008 to 556 million in 2013
Total operator-billed voice revenues for the region are expected to peak in 2011 at $67.3 billion and will decline thereafter
Mexico will retain the highest blended ARPU across the region throughout the forecast period, marginally ahead of Chile
The new report provides in-depth coverage and forecasts for six key South American markets (Argentina, Brazil, Chile, Colombia, Mexico and Peru) as well as for the region as a whole. It also includes regional overviews for key revenue drivers including mobile advertising, mobile entertainment services, mobile financial services and mobile ticketing.
Whitepapers and further details of the study 'South America: Mobile Opportunities, Markets & Forecasts 2008-2013' can be freely downloaded from http://www.juniperresearch.com. Alternatively please contact John Levett at john.levett @ juniperresearch.com, telephone +44(0)1256 830002.
Juniper Research provides research and analytical services to the global hi-tech communications sector, providing consultancy, analyst reports and industry commentary.
###