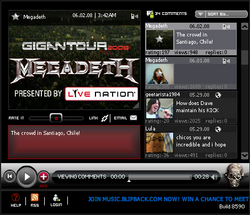 San Francisco, CA (PRWEB) June 4, 2008
Social network widget developer Ojingo Labs announces the launch of their blipBack video widget technology to connect metal legends Megadeth with fans while on tour (http://megadeth.blipback.com/). Fans simply register online and use a video-enabled phone or web camera to send short video messages to Megadeth. Once registered, a one-click installer also allows users to add the widget to their favorite social networking sites.
Megadeth frontman Dave Mustaine is the first musician to utilize a fan-centric widget to keep in touch with fans while on the road for this summer's Gigantour, put on by Live Nation. blipBack offers the ability to talk directly to the band.
It's like talking directly to the band!
Megadeth is able to respond directly to each fan's questions via video, creating a truly personal experience for fan and band alike. Each week will follow a different theme for questions and contests, including a week for fans to submit video renditions of their favorite Megadeth songs for the band's comments and critique.
All registered users are also automatically entered into Guitar Center's contest to win "An Intimate Session with Dave Mustaine" (details at http://promo.livenation.com/sweepstakes/megadeth/)
About Ojingo Labs:
We make Widgets.
Ojingo Labs is the synthesis of technology and toy company, developing innovative products at the convergence of mobile, social networks, and the widget world. Ojingo Labs is partnered with Drop In Media to provide web to mobile creative applications designed to make social networking and mobile promotions easy and fun.
Learn more about Ojingo Labs and Drop In Media:
http://www.ojingolabs.com
http://www.dropinmedia.com
http://www.blipback.com
###