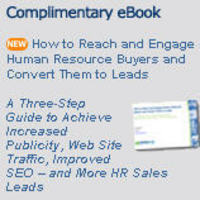 I've personally witnessed the success of this process with hundreds of human resource suppliers who subscribe to HRmarketer.com
Capitola, CA (PRWEB) June 4, 2008
HRmarketer.com has released a new eBook that guides suppliers of human resources (HR) products and services through a three-step process to achieve increased publicity, web site traffic, improved SEO and greater sales leads.
The eBook walks HR suppliers through a proven framework pioneered by the HRmarketer Services Group, the leading provider of marketing and PR services in the human resource industry. The framework, called the Marketing PR Lead-Gen Process(sm) is a three-step process focusing on infrastructure, content and promotion - paying heed to both traditional and Web 2.0 marketing and public relations principles.
"I've personally witnessed the success of this process with hundreds of human resource suppliers who subscribe to HRmarketer.com," said Mark Willaman, author of the eBook and founder of HRmarketer.com. "In fact, when the proper steps are correctly followed, we have not seen a single instance when it has not worked."
The complimentary eBook is available at http://www.hrmarketer.com/home/SellingToHR_HRmarketer_eBook.pdf and requires no registration or forms to be completed for download.
Chapters include:

Step One: Strategy, Messaging and the Search-Optimized "Marketing" Website
Step Two: Content. Content. Content.
Step Three: Promotion
Integration With Other Marketing Activities
Putting it All Together: Sample Six-Month Marketing and PR Plan
The non-promotional eBook also includes an abundance of practical examples, useful tips and other information that can be put to immediate use to begin increasing a company's visibility, web site traffic, sales leads and improve its web site search engine rankings.
About Fisher Vista, LLC:
Fisher Vista, LLC is a marketing and information services firm focusing on the human capital and senior care industries. The company's flagship product, HRmarketer.com, is the No. 1 online marketing and PR service in the human resources industry, helping HR suppliers generate publicity, website traffic, sales leads and improved SEO. SeniorCareMarketer.com is scheduled for launch in early 2008 and will achieve similar results for companies selling products and services relating to the aging of America.
Download the free eBook by visiting http://www.hrmarketer.com/home/SellingToHR_HRmarketer_eBook.pdf
This press release was distributed through eMediawire by Human Resources Marketer (HR Marketer: http://www.HRmarketer.com) on behalf of the company
listed above.
###