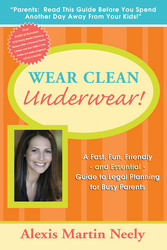 Redondo Beach, CA (PRWEB) June 4, 2008
Parents everywhere spend countless hours planning birthday parties, play dates, carpools, daycare, afterschool activities--but rarely plan for an accident or their own mortality. Incredibly, 69% of parents have not named legal guardians.
"What would happen if..." What if a single parent dies when a child is still a minor? What if both parents die within a few moments or years of each other? What happens to all the money left behind? How can parents make the best decisions without wondering what to do?
In detailing the necessity of Estate Planning for Parents on the Today Show, Alexis Martin Neely, one of the top lawyers in the country and mother of two, urged parents to "just get started." In her book, Wear Clean Underwear: A Fast, Fun, Friendly--and Essential--Guide to Legal Planning For Busy Parents, Neely turns a worrisone legal necessity into an easily understood and accessible read.
In simple, easy-to-understand terms and using real life examples, Wear Clean Underwear will help parents understand the legal complexities of what would happen to their assets, children, spouse, or loved ones, if the unthinkable occurs. From issues of guardianship and avoiding unneccessary estate taxes to leaving behind letters and videos, each story ends with additional websites and resources for family planning.
Wear Clean Underwear ensures that every parent will be able to quickly and easily understand what they must do to ensure their kids will be well taken care of under any circumstance.
Recognized by Worth magazine as one of the country's Top 100 Lawyers, Alexis Martin Neely is founder of the boutique estate planning firm of Martin Neely and Associates in Southern California, as well as the Family Wealth Planning Institute. She graduated first in her law school class at Georgetown University Law Center and for the past three years, Los Angeles magazine has recognized her as a Rising Star, an award bestowed upon top attorneys under the age of forty. In addition, Neely is the creator of http://www.KidsProtectionPlan.com, a free website that allows parents to name legal guardians for their children for free. She has published articles in various magazines and websites, has been a featured guest on numerous television and radio programs and is the regular Family Financial & Legal Expert on Better TV.
###