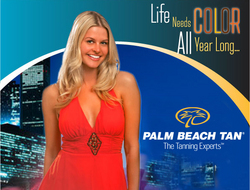 Southlake, Texas (PRWEB) June 5, 2008
The 14th Annual Communicator Award winners have been announced. Robinson Creative Inc. (http://robinsoncreativeinc.com/), an advertising/design firm located in Southlake, Texas, wins top honors in two categories - Sales Video and Direct Marketing for the Palm Beach Tan® lobby audiovisual presentation.
With over 9,000 entries from across the U.S. and around the world, the Communicator Awards is the largest and most competitive awards program honoring the creative excellence for communications professionals. The Communicator Awards are judged and overseen by the International Academy of the Visual Arts (IAVA), a 200+ member organization of leading professionals from various disciplines of the visual arts dedicated to embracing progress and the evolving nature of traditional and interactive media.
The two Communicator Awards represent the third and fourth awards for the innovative Palm Beach Tan presentation. Robinson Creative Inc. was also awarded a Silver Telly for Direct Marketing and a Bronze Telly for Best Sales Video. It is an impressive achievement for this project to be recognized by two different award foundations. The lobby presentation uniquely introduces Palm Beach Tan's® products, services and consultants while building a distinctive signature image for the company.
The impressive piece presents three target client demographics. Their individual lifestyles are illustrated while custom tanning options and levels of memberships are described. The video highlights each customer's life differences while Palm Beach Tan® custom fits a tanning program for a variety of needs. This image-building presentation also compliments the stand-alone features only available at Palm Beach Tan®. It also introduces the first tanning rewards program in the industry, Palm Beach Tan® PremierTM. The in-lobby video utilizes a dynamic visual style with a cinematic film look, probing camera, upbeat music and exciting on-camera personalities; and features award-wining director, Andrew Librizzi. Waiting clients are treated to the lobby presentation in over 140 Palm Beach Tan® salons in 18 markets across the country.
Last year, Robinson Creative Inc. expanded its offices to a Southlake Town Square location within the Dallas Ft. Worth metroplex. The company is on the rise with its current clients but is continuing to increase into more diverse arenas and services. Robinson Creative's current roster crosses over into retail, real estate, corporate and entertainment. Clients have included Lane Company- Atlanta, Riverstone Residential (formerly Trammel Crow), Chicago Title Flood, Berg Productions, JC Penney, Gables Residential and others.
For more information, contact Ben Robinson at 817/748-5057, ext. 101.
Robinson Creative Inc.
Southlake Town Square
286 Grand Ave., Suite 238
Southlake, TX 76092
PH: 817/748-5057
FX: 817/416-7833
WB: RobinsonCreativeInc.com
EM: Ben @ RobinsonCreativeInc.com
###