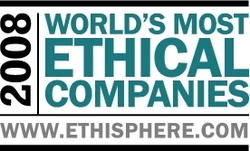 Driving Profit Through Ethical Leadership.
New York, NY (PRWEB) June 4, 2008
The Ethisphere Institute, a think-tank dedicated to the research and promotion of profitable best practices in governance, business ethics, compliance and corporate social responsibility released its second annual World's Most Ethical Companies list. The recipients were honored at an evening reception at the June 3rd Ethisphere and Forbes joint conference, "Driving Profit Through Ethical Leadership." The elite list also appears nationally in the Q2 issue of the quarterly magazine of the Institute, Ethisphere Magazine.
Dave Steiner, CEO of Waste Management, who was named one of 2007's 100 Most Influential People in Business Ethics by the Institute, delivered the keynote address during the lunchtime session, offering attendees his take on the importance of doing business ethically, from the top down, and how a business can benefit from these practices.
Leaders from Google, PepsiCo, Kellogg, and American Express, which were included on the 2008 World's Most Ethical Companies list, spoke on various panels which included Going Green and Supply Chain Sustainability; Human Capital and the Value in Values-Based Leadership; and Looking Ahead: The Future of Ethical Leadership, among others.
"We were thrilled with the wealth of knowledge and anecdotes shared at the event, and believe that they will help advance the discourse on these important ethical business topics," said Alex Brigham, executive director of Ethisphere Institute.
Researchers and analysts reviewed several thousand companies throughout the duration of the year. There were numerous companies who were repeat winners from last year's inaugural list, including Duke Energy, Deere & Co, General Electric, Google, and McDonald's, while General Mills, NYSE Euronext, Science Applications International Corporation (SAIC), and Premier, Inc. were among many newcomers.
"The process was rigorous, and we are confident that the organizations included in the 2008 ranking are the standouts in their industries, forcing their competitors to take a long, hard look at their own efforts--and shortcomings," said Brigham. "These companies make a concerted effort to ensure ethical practices remain a top business priority."
The process included reviewing the companies' codes of ethics, litigation and regulatory infraction histories; evaluating the investment in innovation and sustainable business practices; looking at activities designed to improve corporate citizenship; studying nominations from senior executives, industry peers, suppliers and customers; and working with consumer action groups for feedback. Researchers further analyzed information provided by the companies themselves through questionnaires and conducted additional research for anything they might have missed.
The 2008 World's Most Ethical Companies advisory panel included Ethisphere editors and researchers as well as attorneys, government officials, professors and other leaders from their respective fields who care about ethical and honest business practices.
"We are pleased to see the dedication and commitment from such a diverse set of companies that demonstrate continual ethical leadership," said Stephen Martin, editor-in-chief of Ethisphere Magazine. "These companies consistently demonstrate that doing business the right way--ethically--can have a sustainable, positive impact on their performance and brand."
To see the complete list of the World's Most Ethical Companies, visit http://www.ethisphere.com/WME2008 or contact Jennifer Avrhami at Jennifer @ mindspace.net.
About Ethisphere Institute
The research-based Ethisphere Institute and associated membership group, the Ethisphere Council, are supported by more than 100 institutions and corporations, including the Practising Law Institute, the National Association of Corporate Directors, the Global Reporting Initiative and Corpedia. The Institute is dedicated to the research, creation, and sharing of best practices in ethics, compliance, and corporate governance among its membership companies. It also focuses on the development and advancement of individuals on its membership council through increased efficiency, innovation, tools, mentoring, advice, and unique career opportunities. Ethisphere Magazine is the quarterly publication of the Institute. More information on membership can be found at http://www.ethisphere.com.
The Ethisphere Institute publishes the globally-recognized annual World's Most Ethical Companies Ranking™ as well as the Government Contractor Ethics Program Ranking™ and the upcoming Global Anti-Corruption Quotient.
###