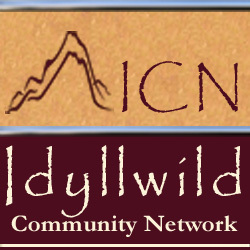 The getaway only minutes away!
Idyllwild, CA (PRWEB) June 24, 2008
"The getaway only minutes away!" Thousands of residents and visitors alike are looking for a getaway where they can go on less than a tank of gas. Idyllwild is the "Alpine Village" only a short distance from Los Angeles, San Diego, Orange County and of course, Palm Springs. Visit http://www.IdyllwildCommunityNetwork.com for information and vacation ideas for that "time of refreshing" we all need
IdyllwildCommunityNetwork.com
Vacations make people feel good. Still, 31% of employed U.S. adults report they don't use their vacation days. Many U.S. employed adults may not be making full use of their vacation days and may not be getting sufficient time away from work. A substantial minority may be sacrificing vacation time for work. And more than one in four employed adults have trouble coping with stress from work at some point in the vacation cycle. This according to Expedia.com. To help you overcome, Idyllwild offers world renowned rock climbing, miles of beautiful hiking trails, horseback riding, biking and, yes, even relaxation. We also offer award winning galleries (voted one of America's best small art towns), fine dining, unique cabins as well as several stunning bed and breakfast inns.
For more complete information to help cure your workaholic symptoms, check out http://www.IdyllwildCommuninyNetwork.com.
About the San Jacinto Mountains
With multiple square miles encompassing the San Jacinto Mountains, the Idyllwild area is home to rolling mountain terrain, breathtakingly beautiful vistas, thriving woodlands and miles and miles of beautiful trails. Winters offer guests the opportunity to experience snowy walks, while summers also cater to the active visitor allowing them to experience hiking and biking trails, great fishing in our local lakes, and open access to a number of county and state parks.
Any time of year is a great time to visit Idyllwild, located within a short drive from most of Southern California. This region is teeming with history, including that of the early local tribes and the lumbering of the 1800's its all Idyllwild.
Even the most discriminating visitor will find comfortable accommodations in Idyllwild, which offers an eclectic mix of cabins, distinctive properties and quaint, bed and breakfast inns.
Comprehensive Idyllwild visitor information is available online at http://www.IdyllwildCommunityNetwork.com or by phone at 951.259.0764. The Idyllwild Community Network is the destination marketing organization for Idyllwild, California's natural treasure, in Southern California.
###