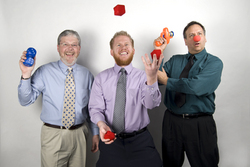 (PRWEB) June 10, 2008
Training conglomerate Evergreen Team Concepts is taking the training world by storm with their continuous innovation. Evergreen Team Concepts' new release of HAMFLAP (acronym for Have As Much Fun & Laughter As Possible) is bringing the principles of fun and laughter into the workplace.
This new training workshop will be customized to your organization's needs. HAMFLAP promises to increase creativity, employee morale, performance and productivity. Program writer Henry Beeland states, "This program is unique. It is designed in a format that makes it a tailored workshop to your organization that teaches companies how to increase performance, increase morale, and increase productivity with the promotion of fun and laughter; which allows for greater creativity and more innovation within the organization. Most importantly this program fosters the creation of an environment that your employees want to be in, which leads to greater retention and numerous other measurable benefits."
HAMFLAP's new workshop rolls out in three phases. First, there is the consulting phase. Evergreen Team Concepts trainers and consultants conduct a professional pre-assessment of your organization's performance and productivity goals. This will include analysis of current team dynamics and company culture as well as the leadership's vision for the company's culture. Evergreen Team Concepts staff will make recommendations to assist the organization in finding enjoyment, excitement and fun within their corporate environment.
Second phase. Evergreen Team Concepts professionals will prepare a customized program designed to enhance your team's ability to find simple ways to effectively communicate with other team members and to learn and lead where they are within your organization, as well as promoting activities and newly agreed upon tactics to increase your HAMFLAP culture while promoting the principles of fun and laughter. A HAMFLAP workshop is guaranteed to be a fun-packed, content-rich, practical and immediately applicable workshop.
The third phase of the HAMFLAP program is support for those who want to join a fun-filled community that is promoting greater growth and enhanced workplace cultures at http://www.hamflap.com. This is a community of supervisors, leaders, CEOs, trainers, consultants and educators of practically every sector who are currently applying the principles of fun and laughter within their organization. The forum allows you to ask questions to trainers, consultants, educators and others who are applying the HAMFLAP principles within their work environment.
The HAMFLAP site will also be used by your leadership team as a resource for team-building activities, icebreakers, workshop games, many meeting tips. The HAMFLAP community allows you the ability to post your own blog to share with others what is happening within your organization and allows you to post pictures of you and your coworkers HAMFLAPping.
Videos will also be posted that are theme-based to be used for promoting ideas and subjects when giving speeches or doing meetings.
Mike Ridpath manager of Evergreen Team Concepts products states, "HAMFLAP was developed for one purpose-to convey the principles of fun and laughter into the workplace through onsite education and online community involvement. HAMFLAP is fun, it's motivating, it raises awareness, it's practical, it leaves a positive change. I personally believe this will be a world class business workshop with participation similar to the demand for our Lean Leadership Certification that is sponsored by the Lean Leadership Institute (multiple classes filled up monthly)."
Evergreen Team Concepts' HAMFLAP event guarantees increased employee morale and participation, increased employee productivity and performance, as well as workplace environment and culture enhancement. Call one of Evergreen Team Concepts' training consultants today to bring a HAMFLAP event to your workplace (866) 559-9222. Join the HAMFLAP community at http://www.hamflap.com and give your corporate culture a literal facelift and start reaping the benefits of a culture that Has As Much Fun & Laughter As Possible.
###