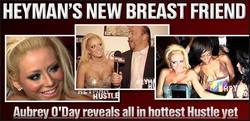 Can't you see one of my boobs is bigger than the other
New York, NY (PRWEB) June 3, 2008
Danity Kane lead singer Aubrey O'Day shocked members of the media on the red carpet at celebrity hangout The Plumm NYC when she was interviewed by Paul Heyman of the wildely popular broadband television show "The Heyman Hustle".
Heyman asked O'Day about her friendship with Jenna Jameson when O'Day just started talking about her own breasts. "Can't you see one of my boobs is bigger than the other," O'Day just blurted out. "It's been my insecurity since I was very young."
O'Day went on to talk about her desire for plastic surgery on another physical abnormality that causes her insecurity, and addresses the rumors of her having an affair with music mogul Sean "Diddy" Combs.
O'Day also admits to having spent the evening with someone, thought "Not a celebrity" the night before, though she wouldn't reveal with whom. Her biggest hint? When asked "male or female," she admitted "male."
But inside the club, O'Day got quite frisky with supermodel Jaslene Gonzalez and singer Adina Howard. With paparazzi and film crews everywhere, O'Day grabbed Howard's breast in the VIP Room while D Woods looked on in envy.
The entire episode of The Heyman Hustle is available at this link: http://www.thesun.co.uk/sol/homepage/sport/wrestling/heyman/article1241596.ece
Previous episodes of the Hustle featuring such diverse personalities as James Lipton; Ice-T and Coco; Jeremy Piven; Governor Jesse Ventura; the cast of "Jackass"; Donald Trump; Gossip Girl's Taylor Momsen; Kelly Ripa; Guns N' Roses bassist Duff McKagan; Lydia Hearst; NBA divorcee "Hurricane" Joumana Kidd; the cast of CBS Survivor; and Broadway legend Harvey Fierstein can be seen at http://www.heymanhustle.com
"The Heyman Hustle", is a weekly show produced by former WWE and ECW writer/producer Paul Heyman and hi-def pioneer Mitchell K. Stuart that has been described as "unparalleled in broadband entertainment" by The American Chronicle. Airing exclusively on SUN-TV, the Hustle is the single most popular show on NewsCorp's new broadband television network, and has more than doubled the traffic to the site since the show's debut in February.
###