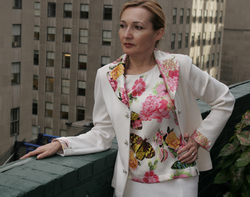 In today's market, truly one-of a kind fashion piece are highly unusual, and Mee You not only creates them beautifully, but also makes them marvelously affordable.
New York, NY (PRWEB) June 5, 2008
Leading Asian Prêt-A-Porter house, Mee You International, announces the launch of a unique Swarovski crystal embellished fashion collection for the North American market. Mee You International plans to introduce American women to the classic styles and sleek silhouettes that have captured the closets of women around Asia. Designed for women of all body types, Mee You International's intricate beadwork and stunning designs have created a wearable art collection that is sure to be a fashion hit with American women of all sizes.
As Andre Kim, South Korea's most famous and powerful fashion designer stated in an article about South Korean Fashion in the New York Times, "Fashion should portray grace, intellectual and artistic beauty, youthful energy…not too classic." In that vein, Mee You has managed to design outfits for women that exudes both elegance and confidence. Their tailored outfits accentuate women's figure and features without compromising comfort.
Mee You's impeccable craftsmanship, which combines Swarovski crystals with hand sewing techniques, results in a glamorous wardrobe-enhancing collection that has no peer on the market. Each garment is painstakingly hand-made, bead-by-bead, requiring of its makers the admirable Asian virtues of diligence, patience and harmony.
"Every woman wants to own clothes that are flattering for her body, but that also highlights her unique personality. Mee You has created a line of designs in figure-flattering fabrics with hand-detailing, making each piece distinctive," said Mira Zivkovich, president and CEO of MZI Global Marketing, which represents a number of international fashion labels. "In today's market, truly one-of a kind fashion piece are highly unusual, and Mee You not only creates them beautifully, but also makes them marvelously affordable."
Having received critical acclaim and accolades by almost every major market, Mee You International is seeking to transform the American formal knitwear market, through the launch of its North American line, Nancy, the Madame Collection. Comprised of classic knits, bold colors and patterns infused with the sparkle of Swarovski crystals, the line has most recently captured the hearts of buyers at shows such as Hong Kong Fashion Week and Preview in Shanghai.
"Making a collection of this magnitude by hand, (weaving) each stone into the fabric, is a work of tremendous size. It was really hard for me to create it, (while) having a factory to support and also (while) working under the pressure of continuing the tradition represented by the family name," said Sook-Hee Kim, CEO of Mee You International. "However, the joy of seeing the collection unveiled makes up for all the hardship and excruciating hours. Another thing that makes me really happy and proud of the collection is that it is high quality in materials. Our items don't fall apart after drying!"
Mee You's collection can be worn for various occasions, ranging from a family wedding to Sunday church attire. Each garment's crystals are featured with a sophisticated eye toward making the wearer dazzle with light. By metaphorically weaving these warm ideals into the fabric, the designers aim to create a harmony of stones, textures, and reflections.
Available in wide selection of styles and sizes, Nancy, the Madame Collection is sure to please women of even the most discriminating palate. For more information on Mee You International's latest fashion collections, visit their website at http://www.meeyou.co.kr.
###