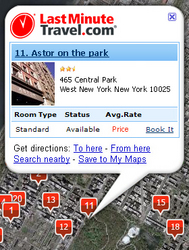 The use of Google maps is increasing steadily; integrating LMT hotel deals directly within Google maps, both onsite and within Google Maps, facilitates ease of access to the hottest hotel deals on the internet
Orlando, FL (PRWEB) June 4, 2008
Last Minute Travel (LMT) has recently added a custom travel layer for Google Maps, enabling users to make hotel reservations with just one click.
Last minute hotel deals appear as "hotel bubbles" within the Google maps interface. Visitors, logged in and using the LMT travel mapplet, will see hotel bubbles expand to display hotel details, availability, pricing and a "book now" button.
"Google is now offering far more than search technology. Every day users are adopting Google's useful tools, such as Gmail, Google Maps, Google Earth and more. It was a natural move for Last Minute Travel to align with this trend, integrating the LMT travel layer within the Google Maps interface. As more users adopt these tools, LMT travel will be there to provide added value," says Amir Inditzky, EVP e-commerce at LMT.
Visitors using the Last Minute hotel travel mapplet view hotel locations in relation to popular travel attractions and amenities. After clicking a hotel bubble, visitors are then taken to a Last Minute Travel hotel page, with detailed satellite and street-view pictures, pulled directly from Google Maps. Viewers may also select bird's eye view from any angle conceivable and receive detailed driving directions and distances from nearby airports.
"The use of Google maps is increasing steadily; integrating LMT hotel deals directly within Google maps, both onsite and within Google Maps, facilitates ease of access to the hottest hotel deals on the internet," said Inditzky. "In addition, LMT is committed to future enhancements and integration with Google and other leading internet providers. Introducing the latest travel add-ons makes travel research and hotel bookings easier than ever."
About Last Minute Travel
Founded in 1997, LastMinuteTravel.com is a leader in selling online travel. Last Minute Travel, a wholly owned subsidiary of Travel Holdings, Inc., is the premier online website for Last Minute Travel deals offering cheap travel packages, discounted airfare, bargains on hotel accommodations, car rentals, cruise specials and more, to the top traveled destinations worldwide. A pioneer in selling and marketing online travel, LastMinuteTravel.com allows travelers to find the best deals at the last possible moment, as hotel rates can change every second. Last Minute Travel® and LastMinuteTravel.com® are registered trademarks of LastMinuteTravel.com, Inc.
This press release was submitted by Amit Peleg, Compucall Web Marketing, on behalf of Travel Holdings
###