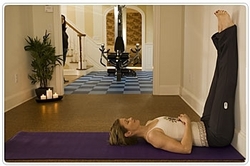 Her high energy, design intelligence and incredible eye for style makes her an ideal spokesperson for our line.
Wassaic, NY (PRWEB) June 5, 2008
MyGymFloor.com, America's leading manufacturer and online retailer of superior home gym flooring, announced today that Dr. John Spencer Ellis, fitness and lifestyle expert for Bravo's Real Housewives of Orange County and CEO of National Exercise and Sports Trainers Association (NESTA), along with Kelli Ellis, interior designer for Discovery Home Channel/TLC's Clean Sweep, HGTV's Takeover My Makeover and CEO of Kelli Ellis Interiors, have been named as co-spokespersons for MyGymFloor.com. The otherwise unrelated Ellis' were selected by MyGymFloor.com to serve as co-spokespersons to promote the benefits of home gym flooring from a fitness and design standpoint and are currently starring in a fun and informative video that highlights the many flooring options available exclusively at MyGymFloor.com
"Architects and designers tell us that the overall color, style, and texture of the flooring is the number one design element in a home gym. We are extremely excited that Kelli will be associated with our company's unique line of flooring products that focus exclusively on the home gym market," said Rich Meyer, Sales Manager at MyGymFloor.com. "Her high energy, design intelligence and incredible eye for style makes her an ideal spokesperson for our line."
"What better way to promote the functional benefits of our flooring than having Dr. John Spencer Ellis not only share his vast fitness expertise, but also bring his genuine enthusiasm and passion for fitness to our company," added Meyer. "It's an ideal endorsement opportunity and with the Ellis' we'll be reaching new audiences all over the U.S."
The Ellis' recently completed production of a three-minute video that is now playing on dozens of websites including MyGymFloor.com, JohnSpencerEllis.com, KelliEllis.com, nestacertified.com, youtube.com, myspace.com and a host of other social networking websites. The video takes an inside look at how the Ellis' worked together designing a home gym. Kelli cheerfully educates John on how the interior design of the room needs to be beautiful, and should reflect the homeowner's personal style and preferences, while John shares his reasoning for selecting functional and durable products that providethe right performance at the right price. After reviewing many of the benefits and attributes of MyGymFloor.com's flooring options, the Ellis' come to an agreement that satisfies all of their conflicting requirements, resulting in a home gym that meets all of their fitness and design needs.
According to John Spencer Ellis, this is the first designer/fitness expert co-spokesperson team in the industry. "I've always prided myself in being at the forefront of the fitness industry and my new partnership with MyGymFloor.com and designer Kelli Ellis is evidence of that," said Dr. Ellis. "More and more Americans are working out in the comfort and convenience of their homes and My Gym Floor is now offering the same professional grade flooring it manufactures for commercial gyms worldwide direct to the home consumer. My Gym Floor was developed to provide the homeowner with the tools and information they require to make the correct flooring choices for their home gym. No other site on the web provides the education and expertise required to make an informed flooring decision as MyGymFloor.com."
"In the past, designing a home gym was a difficult task because my typically upscale clients weren't interested in ugly, black rubber flooring that smells like used tires," said Kelli Ellis. "My Gym Floor offers an unmatched collection of unique flooring options for the home gym, in colors ranging from bold and striking to soft and subdued. Many of the virgin rubber and vinyl tiles feature seamless interlocks, allowing for an infinite range of design options- from checkerboards to custom patterns the homeowner can create themselves on the easy to use Floor Planner. As an interior designer I spend much of my time mediating the conflicting needs of my clients. My Gym Floor's amazing product choices now make it easy to design a home gym that is as beautiful as it is functional"
"At My Gym Floor, we know that our customers want a durable, problem-free floor that is not only easy-to-install and affordable, but that will also enhance the interior design of their home," said Meyer. "With the Ellis' video, we are able to showcase the three different grades of home gym flooring that we offer to suit a variety of needs and tastes. Best of all, the entire line was developed to allow our customers to easily install the tiles themselves over their existing flooring. No power tools, tapes, or adhesives are required to install the tiles, and many of them can be used to convert former problem areas- such as wet basements- into functional and attractive home gyms.
MyGymFloor.com is best known for its premium virgin rubber tiles which are available in hammered and textured surfaces in a wide range of exciting colors The Faux Finish laminated vinyl tiles feature today's hottest trends- from bamboo, to cork, to a collection of exciting hardwoods and natural slates. An extensive vinyl tile line allows their customers' "inner decorators" to run wild, with tiles available in a number of sizes, patterns, and colors. MyGymFloor's exclusive easy-to-use Floor Planner allows shoppers to custom design their own patterns, making it even easier for them to create their ultimate home gym.
The company also offers a complete line of mats for use under individual pieces of strength and cardio gym equipment as well as mats for yoga or Pilates. Environmentally friendly cleaning solutions are also available.
In addition to the video, the Ellis' will share MyGymFloor.com with their TV audiences, be featured on the company's website and promotional materials and participate in other cross-promotional programs.
About MyGymFloor.com
My Gym Floor is a division of Pawling Corporation, a U.S. company that has been providing customers with superior products and services since 1945. A leading manufacturer of premium virgin rubber flooring. Pawling's line of commercial quality athletic flooring systems can be found in thousands of commercial fitness studios and health clubs, school and university gyms and government facilities across the U.S. and worldwide. For information visit http://www.mygymfloor.com or call 88-My-Gym-88 (888-694-9688).
About John Spencer Ellis
Each week, more than one million people enjoy a fitness and wellness program created by John Spencer Ellis. His fitness programs are implemented in the top resorts, spas and health clubs throughout the world. Ellis is CEO of NESTA (National Exercise & Sports Trainers Association), Spencer Institute for Life Coaching, Get America Fit Foundation; Vice President Business Development for MyNutritionStore.com, Fitness and Lifestyle Expert for Bravo's The Real Housewives of Orange County;
Host of The Fit Show, Core 360 Personal Trainer infomercial, PersonalTrainerTV.com, The OC Body, The Spencer Power Hour Radio Show, Ms. Fitness U.S.A and World Pageants. Visit http://www.johnspencerellis.com for further details.
About KelliEllis.com As the only child of a judge, Kelli Ellis learned at a young age the importance of diplomacy and balance -- in life as well as in designing a room! Ellis is President of Kelli Ellis Interiors, Inc., Television Designer for Discovery Home Channel/TLC's Clean Sweep, HGTV's Takeover My Makeover; Host of ONLINEDESIGNTV.com and Creator of Be Your Own Designer™ With The Kelli Kit. More information is available at http://www.kelliellis.com.
###