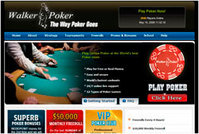 I play on my home computer and sometimes even in the university
Trenton, NJ (PRWEB) June 5, 2008
WalkerPoker.com announced today that Ron Kalaj, a 22 years old student from Michigan, is the winner of the special Walker Goes to Vegas tournament competition. Ron will travel first class all the way, including 5* hotel and a private limousine and of course will live the dream of playing with the big names in the Bellagio $2000 weekend tournament.
Ron won the first "Walker Goes to Vegas" competition awarded by the fastest growing name in the poker world, WalkerPoker.com and all of that by accumulating the most Walker Points during the month of May. Ron started his bankroll with a small deposit of $100 and now considers being one of the biggest players on Walker Poker.
Ron spoke to the Walker Poker team and said "I've never been to Las Vegas and now I get the chance to go in style and play poker with the big names in the poker world". "I really can't believe that I won such an important competition, it was hard but I knew I can make it"
Ron is a 22 years old student who plays poker for 3 years. He started playing at WalkerPoker.com on February 2008 and turned out to be one of the most respected players. Ron said he usually plays poker for about 3 hours a day after school but on the weekends he plays much more.
"I play on my home computer and sometimes even in the university", Ron said. "I started playing at WalkerPoker.com because I was looking for a place I can become better without competing against professional players". "Walker gave me the chance to improve game".
Ron is expected to play with dozens of players in the $2000 Bellagio weekend tournament. The tournament usually attracts some big names in poker and many top players who play for years. "It will be a real experience for me playing against so many top poker players. Now I will know for sure how good I really am".
WalkerPoker.com is one of the fastest growing poker rooms in the poker world. Walker is offering games in all limits and around the clock tournaments with massive overlays. Walker Poker is a US friendly room.
WalkerPoker.com offers huge cash bonuses for new players. The site will go as high as $750 bonus on any first time deposit made and offers around the clock freerolls for players who want to play poker without risking their own money.
Press Contacts:
Robert Lanka, VC Marketing
Robert @ walkerpoker.com
Walker Gaming 2007
Website: http://www.walkerpoker.com
###