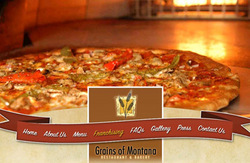 Littleton, CO (PRWEB) June 5, 2008
Folks can stop in for a fresh-baked cinnamon roll or slice of pizza on the way to the Meridian Dairy Days Festival this June. Yet another Grains of Montana Restaurant & Bakery franchise store has opened its doors and is firing up its ovens to bake fresh artisan breads, rolls, breakfast pastries and brick-oven baked gourmet pizzas. Folks going to or coming from the festival can stop in to sample baked goods and more from the "fast casual" Grains of Montana full menu.
The Grains of Montana Restaurant & Bakery small business franchise opportunity is unique in both the ingredients and methods that go into making menu items. Visitors to the new Meridian, Idaho, store can now sample goods made from Nielsen Farms red spring wheat. The wheat is grown in rotation to boost protein levels and made into dough allowed to ferment a full 24 hours until it reaches its optimal flavor profile. Other items popular in the Billings, Montana, location are also available to Meridian customers, including breakfast entrees, fruit smoothies, espresso drinks, soups, salads, sandwiches and brick-oven baked gourmet pizza.
Other entrepreneurs have been taking advantage of this new small business franchise opportunity. Grains of Montana Franchising, Inc. will soon announce openings in Biloxi, Mississippi, Boise, Idaho, and Tucson, Arizona, in the coming months. A 10,000-square-foot bakery is scheduled to begin production in Billings in an effort to provide franchisees with consistently high-quality artisan breads and pastries. Nationwide distribution is also being planned.
"The Bakery in Billings is now under construction and completion date is mid-summer 2008. When the bakery opens, we plan on not only supplying our franchisees with our baked products but will also be selling our baked products nationwide through food distributors," explains franchise business partner Tom Wilscam.
To learn more about the Grains of Montana Restaurant & Bakery small business franchise opportunity, visit grainsofmontana.com.
About Grains of Montana:
The first Grains of Montana Restaurant & Bakery was launched when the Nielsen family decided to turn some of the 15,000 acres of hard red spring wheat into baked goods. The first store opened in Billings, Montana. With the help of franchising partners Tom Wilscam and Gary McGill, owners Kyle and Travis Nielsen created a bakery franchise menu that incorporates the fresh-baked goodness of their wheat products, including such items as breads, pastries, espresso drinks and brick-oven pizzas.
###