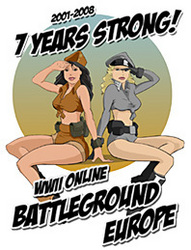 Arlington, TX (PRWEB) June 5, 2008
Playnet Inc and Cornered Rat Software are inviting gamers to a special 7 day celebration of 7 years of continued success of their award-winning MMOG, "WWII Online: Battleground Europe" with a full calendar of special events, competitions and unique prizes.
From June 6th to the 12th, 2008, tens of thousands of previous players will be invited back for a "Welcome Back Soldier" week. New players can sign up without a credit card for a 14-day trial and will have their accounts credited with a free CD key, a $19.99 value.
One very unique prize being offered is the chance for players to have their face digitized and added as a game character. Other prizes being given out during the week include free one year subscriptions and Anniversary edition T-shirts.
Some of the events include:
THE RATS LAST STAND: Playnet staff will attempt to hold off the entire player community and make a daring escape
VETERAN'S EVENT: Veteran players will challenge new players to a no-holds barred fight for supremacy
HIGH SCORE EVENTS: Infantry and fighter pilots will have the chance to win a great prize by showing off their superior skills
SERVER WIDE CEASE FIRE: Players from both sides of the virtual war will meet for a peaceful ceremony to honor the fallen of World War II.
More information about the events can be found at Anniversary Event page.
Released as "WWII Online: Blitzkreig" in 2001, it is now known as "Battleground Europe"- a brutal, online World War II based PvP in which players choose to fight for the Allied or Axis forces as ground troops, fighter pilots or tank commanders. It is a ground-breaking MMO that boasts thousands of fans worldwide.
For more information visit the official "Battleground Europe" website at BattlegroundEurope.com
© 2008 Playnet, Inc. All Rights Reserved. Playnet Inc., World War II Online™, WWII Online™ , Battleground Europe™ , Cornered Rat Software©, are trademarks of Playnet Incorporated.
###