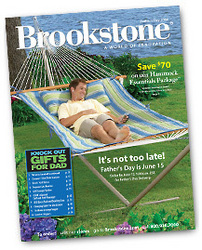 People are finally getting the message that ties and Father's Day don't mix
Merrimcack, NH (PRWEB) June 5, 2008
Recognizing that a zero-tie Father's Day could finally be within reach, Brookstone today announced a campaign to give customers instant 10 percent savings for turning in a men's necktie to any Brookstone store.
Beginning today and running until Father's Day, June 15, Brookstone's Tie-Died promotion will take 10 percent off an entire purchase for customers who bring a necktie to any one of the chain's 318 stores nationwide.
Brookstone took the action one day after The Wall Street Journal reported that the trade group representing U.S. tie makers would shut down amid declining use of neckties by men in the workplace.
"People are finally getting the message that ties and Father's Day don't mix," said Brookstone CEO Lou Mancini. "We hope that with our Tie-Died program we can eliminate the threat of ties as Father's Day gifts once and for all and encourage people to buy something from Brookstone that dad truly wants and will enjoy."
Brookstone today also released its top last-minute Fathers Day ideas, all of which underscore why the only use for a tie this Father's Day is at a Brookstone store to receive a 10 percent discount.
iConvert Digital Slide and Negative Converter: Bring old photos into the digital age. Brookstone's easy-to-use slide and negative converter turns 35mm images on slides and negatives into digital jpg files that can be edited, copied and shared with friends and family. Simply insert your film or slides into the included tray and press scan. The slide and negative converter does the rest, capturing high-resolution digital images to your computer and preserving cherished photos in a matter of seconds. The included scanning and editing software works with any Windows XP or Vista PC. Give Dad the iConvert Digital Slide and Negative Converter and help bring his glory days back to life. $129.95
Motorized Grill Cleaning Brush: Help Dad keep his grill sparkling clean and ready for spur-of-the-moment barbeques. Brookstone's motorized grill cleaning brush powers away burned-on food fast and doesn't require any elbow grease. Simply push the control button, and dual revolving brass heads go to work. The powerful motor cleans the dirtiest grates quickly and easily. Plus, the integrated stainless steel guard and scraper on this grill cleaning brush keeps your hands and clothes clean. Try that with an ordinary brush. The brush head is also removable for easy cleaning and replacement. With clean-up this quick, Dad will have more time to secure his position as neighborhood grill master. $30
SportsCast Wireless Baseball Scoreboard: Let Dad keep track of his favorite team, even if he can't be near a TV, radio or computer. Brookstone's SportsCast Wireless Baseball Scoreboard uses a free wireless signal to provide updates every half-inning to standings, stats and game-time scores for all 30 MLB teams. The live data feed even continues through playoffs and spring training, letting Dad keep track of his team year round--all with no annual or monthly subscription. Give the man who has everything the SportsCast Wireless Baseball Scoreboard and give him enough stats and scores to wow the water-cooler crowd every day of the week. $99
WeatherCast Wireless Home Weather Station: Give Dad the simplest way to get the weather, in his own town or across the country. This digital home weather station uses a free wireless signal from AccuWeather.com to track the current conditions and 5-day forecast for 152 U.S. cities. In addition to the actual temperature, WeatherCast provides a real-time "feels like" temperature based on wind, humidity, and other conditions. This makes it easy for Dad to decide between jacket or no jacket when he heads out for his weekend golf game. Stand it on a desk, mount it on the wall, or stick it to the fridge. This home weather station features a sleek, attractive design that looks great with any decor. $99
Sona Anti Snore Pillow: This Father's Day, give Dad the gift that lets him breathe easy. Brookstone's anti snore pillow is clinically tested to stop snoring and treat mild sleep apnea. It uses a patented design to encourage a comfortable side-sleeping position that helps keep airways open. Put the spring back in Dad's step by giving him the key to more restful, rejuvenating sleep. The Sona Anti Snore Pillow was designed by a neurologist and clinically tested to promote healthy, quiet breathing while asleep. Order today and take advantage of Brookstone's limited-time FREE sleep mask offer. $129
Customers can find these and other great gift ideas, but no ties, at all Brookstone stores nationwide and online at http://www.brookstone.com.
Brookstone's Tie-Died campaign runs June 5 to June 15, 2008. Customers can exchange a men's necktie for the 10 percent discount at any one of Brookstone's 318 stores nationwide and receive an instant 10 percent discount off their purchase. The offer is valid only at Brookstone stores. The 10 percent Tie-Died discount cannot be combined with any other special offer and is not valid for purchases of Tempur-Pedic, Power Plate, Sony, Bose or Panasonic products.
Brookstone, Inc. is an innovative product development and specialty lifestyle retail company that operates 318 Brookstone Brand stores nationwide and in Puerto Rico. Typically located in high-traffic regional shopping malls and airports, the stores feature unique and innovative consumer products. The Company also operates a Direct Marketing business that includes an e-commerce website at http://www.brookstone.com.
###