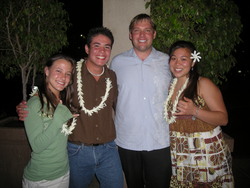 I want to move back to Lanai after graduation to improve the conditions of our community.
Wailuku, HI (PRWEB) July 1, 2008
When Baldwin-graduate Daniel Ho was in seventh grade, he lost all vision in his left eye as a result of bully's attack. As he worked with doctors to repair the injury, Daniel learned not to take anything for granted. He also gained a deep desire to help others--much in the same way his own doctors helped him. Daniel has chosen his path: He will study optometry at the University of Hawaii at Manoa beginning this Fall, and return to Maui after graduation.
Daniel is one of five high school seniors awarded $1,000 each by the Josh Jerman Realtor Maui Scholarship 2008. Other scholarship winners include: Elmer Agtarap of Lanai High School; Whitney Apo of Molokai High School; Carli Owan of Kamehameha Schools Maui; and Ashley Ventimiglia of King Kekaulike High School. In its fourth consecutive year, the Josh Jerman Realtor Maui Scholarship encourages college-bound students to use their education to benefit Maui County. More than 50 students applied for this scholarship. A selection committee reviewed student applications, rating them by financial need, academics, community involvement and a student essay describing how they planned to use their education.
All five winners demonstrated a passion and plan for helping the Maui County community after they graduate. According to Daniel Ho, "As much as I'd like to experience other places, I'll always call Maui home. I want to give back to the community that made me who I am."
Elmer Agtarap of Lanai will study civil engineering at the University of Hawaii at Manoa. "Participation at community service beach clean-ups and yard clean-ups helped me understand that not only one person can make a difference, but a group of caring individuals," he said. "I want to move back to Lanai after graduation to improve the conditions of our community."
Whitney Apo of Molokai will major in Nursing at Southern Oregon University, with the goal of becoming a Certified Nurse-Midwife. By volunteering at the local hospital, Whitney learned that midwives do most of the birthing deliveries on Molokai. "Midwives have the honor of bringing new life into this world, and to help families plan for the future," she said. "I have chosen to commit myself to this career in health for both my own family as well as my community."
Carli Owen of Maui is also interested in health, and hopes to use her education to teach Hawaiians about the importance of eating well. She will major in Nutritional Science at the University of Nevada Las Vegas. "Many people throughout Hawaii struggle with unhealthy eating and exercise choices. The consequences have been harmful and in some cases deadly."
Finally, Ashley Ventimiglia worked as a Vet Technician and learned about the importance of caring for animals on the island. "I plan to start an emergency veterinary clinic on Maui, where I will specialize in surgery and serious cases." She will major in Animal Science at California Polytechnic University this fall.
"I hope this scholarship will inspire Maui's youth to return home and share their skills here on the island--where they can make a difference," said Josh, who returned to Maui in 2002, after graduating from the University of Washington, for a career helping homebuyers and sellers of http://www.VIPmauirealestate.com (Maui Real Estate). Josh works as a broker with Century 21 All Islands--The Shops at Wailea, and donates five percent of his earned income on every sale to the scholarship fund, and five percent to the Maui charity of his clients' choice.
###