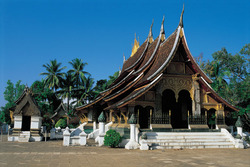 This is one of our most exotic itineraries
Bristol, VT (PRWEB) July 1, 2008 —-
Bicyclists can savor Southeast Asia's natural beauty on a new bike tour through Northern Thailand. VBT Bicycling Vacations, the award-winning international bicycle tour operator, announced today its latest biking trip, Exploring Northern Thailand, a unique and exciting 13-day itinerary that debuts in November, 2008.
"This is one of our most exotic itineraries," said Gregg Marston, VBT president. "And when you explore the rural side of Thailand by bicycle, as this itinerary does, you really learn why this is called the 'Land of Smiles.' People are as interested in you as you are in them. So the conversations, even the ones with simple hand gestures, come more easily. It's the most intimate way to explore Thailand's natural and cultural wonders, and to get to know the country and its people."
The trip begins in Chiang Saen, in the northern reaches of the Golden Triangle region. A stop at the Hall of Opium gives insight into the notorious Southeast Asian trade that once pervaded the region. In Phrao, travelers cycle to an early-morning alms-giving ceremony with Buddhist monks, browse authentic market stalls, and learn to prepare traditional Thai cuisine. Then it's on to Doi Angkhang, and a ride to meet the Muser and Palong hill tribes. In Sri Lanna National Park, riders trade their bicycles for boats to paddle to a floating house for lunch. From Chiang Mai, the cultural and spiritual center of Thailand, cycle routes lead travelers to the San Khamphaeng Hot Springs and to Ban Tawai, a nearby artisans' village.
Accommodations reflect the essence and generosity of Thai culture, including an exclusive 2-night stay at the Angkhang Nature Resort, recent winner of a "Best Eco Resort" award. Guests also stay at an authentic Thai country inn in rural Phrao as well as centrally located hotels in Chiang Mai and Chiang Rai..
The first departure is scheduled for November 1, 2008, with additional dates through March 2009. Prices for the seven-day itinerary begin at $3,495, including twelve nights of lodging, use of a VBT bike, and full van support. Optional Southeast Asia trip extensions are offered Bangkok and Luang Prabang, Laos.
VBT Bicycling Vacations was named "Best Biking Outfitter on Earth" in a 2007 survey of more than 200 adventure travel outfitters by National Geographic Adventure magazine. Outfitters were ranked in six categories: education, sustainability, quality of service, spirit of adventure, references, and best overall. VBT emerged as the best overall in the Biking category.
Founded in 1971, VBT Bicycling Vacations offers 30 deluxe bicycling tours in 20 countries worldwide, including destinations in Europe, Costa Rica, New Zealand, Vietnam, Thailand, Turkey, South Africa, Canada and the U.S.A. VBT promises its travelers worldwide bicycling and discovery vacations at the best value, guaranteed.
For reservations or more information about VBT Bicycling Vacation's new Southeast Asia tour "Exploring Northern Thailand," call 1-800-245-3868 or log on to the company's web site, http://www.vbt.com.
FOR MORE INFORMATION, CONTACT:
Spencer Newman, Marketing Director
802-453-4811 ext. 3414
snewman @ vbt.com
###