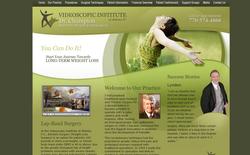 For the safety and comfort of my patients, I made the commitment to specialize and limit my practice to Advanced Videoscopic Surgery.
Atlanta, GA (PRWEB) July 16, 2008
Videoscopic Institute of Atlanta, one of the most thorough bariatric patient care centers in the country, has released a new look for their website in response to the growing demand among patients seeking information about surgical weight loss procedures. Dr. James K. Champion, medical director of the Institute, is world renowned for the advanced videoscopic surgical techniques he has developed and refined while treating patients suffering from morbid obesity. His revolutionary techniques greatly reduce pain and minimize recovery time for his Atlanta weight loss surgery patients.
As Dr. Champion explains, "For the safety and comfort of my patients, I made the commitment to specialize and limit my practice to Advanced Videoscopic Surgery." He continues, "My goal with the new website is to demonstrate that commitment by making important information about bariatric surgery benefits and risks easily accessible to my patients."
Dr. Champion and his staff realize the physical and emotional challenges of dealing with obesity and have designed the new site to serve as a comprehensive resource for their Atlanta bariatric surgery patients. During the initial information gathering stage, patients can sort through detailed information about the variety of procedures offered to treat morbid obesity and review actual patient pre and post operative photographs. Additionally, patients can visit the Videoscopic Institute's video website which showcases interviews with Dr. Champion answering common questions about bariatric surgery along with patient testimonial interviews. While there is no doubt that the new website aids in the decision making process for those considering weight loss surgery, it continues to be an excellent resource for Dr. Champion's post-operative patients as well. As one patient notes, "There are a number of lifelong and significant changes that can occur with the surgical treatment of obesity. Dr. Champion's online support groups have been the best way for me to address these changes in a warm and supportive atmosphere by a group of similar people sharing their experience."
The Videscopic Institue of Atlanta's website contains a wealth of information about each type of bariatric surgery procedure performed by Dr. Champion which proves to be invaluable to patients considering the surgery. While the Roux-en-Y Gastric Bypass approach is the most common procedure performed, many other options are available to suit the surgical needs of other patients including Dr. Champion's Atlanta Lap-Band surgery and Atlanta Realize Band surgery patients. The new site also includes special features such as an interactive body mass index (BMI) calculator, financial information including insurance protocols, and patient forms that enable patients to make visits to the office as efficient as possible.
Online since 1998, the unveiling of the new website is consistent with The Videoscopic Institute's reputation as a leader in the field of bariatric surgery with high priorities placed on patient safety, technology, and overall experience. Dr. Champion continues to commit himself and The Institute to the development and implementation of modern surgical techniques to safely and effectively treat the morbidly obese.
Dr. James K. Champion employed bariatric surgery marketing firm Rosemont Media in San Diego, CA to design and develop the new web site. For more information on the product and service offerings by Rosemont Media, visit their site or call (800) 491-8623.
About Videoscopic Institute of Atlanta
Located outside of Atlanta in Marietta, Georgia, The Videoscopic Institute of Atlanta is operated under the direction of Dr. James K Champion, and employs a team of physicians and support staff who work to surgically treat patients suffering from morbid obesity. Because of extensive professional experience and leadership, the Videoscopic Institute of Atlanta has earned recognition as an American Society of Bariatric Surgery "Center of Excellence" for Bariatric Surgery upon meeting a set of rigid standards as set forth by the organization.
# # #