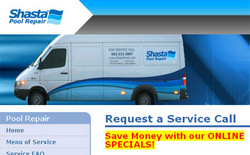 Phoenix, AZ (PRWEB) July 1, 2008
Pool owners in the Phoenix area can now spend more time swimming and less time skimming, fixing, filtering, and troubleshooting. Shasta Pool Repair, a division of Arizona's Shasta Pools & Spas, announces a "Website Launch Sale-abration" just in time for easy summer pool maintenance and repairs. Twenty-eight years of service, 700,000 service calls run, and 75,000 installed pools after the company began providing its repair services to owners, it is announcing a new website that streamlines access to information and pool care/repair scheduling for swimmers and loungers throughout the Valley of the Sun.
Shasta technicians repair swimming pool pumps, motors, filter systems, swimming pool lights, heaters and other pool equipment. Other services offered by the division include system checks, filter cleans, time clock installations, complete cleaning system replacements, conversions to energy efficient variable speed motors, and more. Some repair services restore worn or broken parts, while others, like the conversion to an energy efficient pump/motor, actually save money and reduce a pool's annual costs of electrical operation by as much as 30% to 60%, depending on pool size.
Shasta's Customer Care Division Director Rick Mortensen explains that more and more Phoenix families are in tune with the internet and want the ability to reach companies fast to have their service needs scheduled and addressed, leaving precious free time to spend enjoying their pools.
"The ShastaPoolRepair.com Arizona pool repair website was built to let pool owners access our services 24/7 and to help them minimize the time they spend searching for solutions to pool maintenance and repair issues. The site is easy to navigate; from the FAQs page to contact forms for service, to registration for monthly alerts to specials, it couldn't be easier for pool owners in the Valley to keep their primary source of backyard recreation in great shape."
Shasta Pools & Spas has been building and servicing the Phoenix, Arizona area for many years and quite often real estate transactions involve the acquisition of a Shasta Pool. The new website encourages homeowners in this situation to rely on the expertise of Shasta repair technicians who are already familiar with the swimming pool on their newly acquired property.
"This leading Arizona pool builder has built over 75,000 swimming pools in the Valley, so when someone is a second or third owner, they are encouraged to take advantage of the situation. The company maintains a customer history base that allows them to access records, addresses, and pool equipment issues fast," says Senior Marketing Manager John Neely.
To learn more or to take advantage of monthly specials, visit ShastaPoolRepair.com.
About Shasta Pool Repair:
Phoenix Valley residents can take advantage of this maintenance and repair service through ShastaPoolRepair.com, whether they're owners of Shasta Pools or other brands of swimming pools. Shasta's service technicians and repair specialists can replace or repair swimming pool water heaters, pumps, lights, motors, filters and other cleaning system equipment. Shasta Pool Repair services most major brands of pool equipment and performs repairs to keep pool systems operational and functioning so customers can enjoy their pools.
###