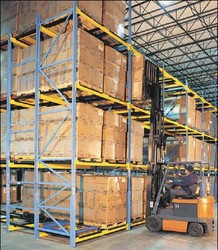 the important thing is to look at them upfront so when you are ready to move in, the building is ready too.
Torrance, CA (PRWEB) July 1, 2008
Working on a new warehouse design or even expanding an old one can present challenges to even veteran planners. Bringing in your supplier for storage racks during the planning stage can allow you to maximize storage capacity while staying up with the latest code requirements.
"There are a lot of issues," says Steel King engineer Arlin Keck, "the important thing is to look at them upfront so when you are ready to move in, the building is ready too."
For instance, planning for building columns means you won't have to deal with wasted space when you actually have to use your facility. Proper warehouse design by your vendor makes certain the columns are buried between storage racks and don't end up in the service aisles. Also you need to keep the distances safe for truck operators without costing more space than needed.
As warehouse design becomes higher and more sophisticated to minimize real estate, labor and heating cost; and the building codes have become stricter to satisfy seismic requirements; rack design requires even more upfront planning to keep up.
"With seismic codes being enforced nationally, you need to find a company that has experience and knows what to do before you put up your warehouse," adds Keck. Steel King, a major designer and manufacturer of warehouse material handling, storage, and safety products, has been helping plan warehouses since 1970.
Fire codes can also be a problem. Even if you have a building permit, there will still be a fire permit inspection. This can involve sprinklers, vents, firewalls, access to exits, and hydrants. Your needs can be especially complicated if there are pick systems or elevated works areas. If you miss on any of these local requirements, the fire marshal may not let you occupy the building.
The Rack Manufacturers Institute (RMI) publishes a racking design specification and the American Iron and Steel Institute (AISI) and American Institute of Steel Construction (AISC) each publish a steel design specification. Your racking system must be in compliance with these specifications along with your local building and fire codes.
As systems become more complex, the demand on the floor slab becomes greater. The slab may have to be strengthened or the rack system modified with larger base plates to accommodate the inadequate floor slab and that is added expense that could have been avoided. "Your supplier should give you the anticipated post loads for the floor," says Keck, "that is one of the first things Steel King does."
You even need to follow best practices to protect your racking products once they arrive on site. For instance, often rack installation occurs before the building is complete. That requires designated docking and storage areas. Set-up and installation also requires a clean and protected area. This is especially true if there are other trades around such as painters or drywall workers.
Remember, the bottom line in maximizing your new warehouse space and staying code compliant is all about working on the warehouse design with your rack supplier. Planning, that is, before you break ground.
For more info, contact Donald Heemstra at Steel King, 2700 Chamber St., Stevens Point, WI 54481; call 800-826-0203; visit the website http://www.steelking.com.
###