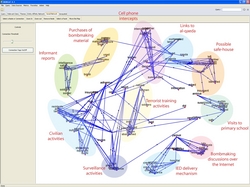 The results of SONIC will enable intelligence analysts to throw massive amounts of data at BOBCAT and drill into the relationships between key individuals or terror groups quickly
Arlington, VA (PRWEB) July 2, 2008
Decisive Analytics Corporation (DAC) announced today that it has been selected by the US Air Force to develop new technologies for identifying terror networks. This asymmetric threat poses perhaps the most dangerous risk to US forces and assets both overseas and at home. Because of the sheer amount of data available, identifying terrorist activities can be very difficult. To overcome this problem, DAC is developing new ways to automatically identify terror networks while also understanding the context they represent. Social Networks In Context (SONIC) provides the capability to understand the roles of different network nodes, understand the semantic relationships between entities, and automatically identify important clusters of entities within a dynamic terror network. SONIC builds on DAC's BOBCAT approach to identifying and stopping the terror threat. The capabilities developed under SONIC will be made available to BOBCAT customers in late 2008 and early 2009. Terrorism expert Dr. Marc Sageman is partnered with DAC on this effort.
"The results of SONIC will enable intelligence analysts to throw massive amounts of data at BOBCAT and drill into the relationships between key individuals or terror groups quickly," says DAC Director Dr. Jim Nolan. "Our customer base requires a capability that identifies and characterizes the context of the relationships within and across terror networks. SONIC will provide that capability."
"The SONIC effort will bring together the disciplines of mathematics, computer science, sociology, and psychology to identify and characterize terror networks," says BOBCAT Product Manager Jessica Bradley. "This multi-disciplined approach will provide a suite of services that enable the Warfighter to accelerate the analytical process and ultimately stop the terrorist threat."
About BOBCAT:
The BOBCAT suite of services enables analysts to identify terrorist cells and predict their intent by finding hidden relationships against an overwhelming backdrop of noise. BOBCAT processes data from standard intelligence sources, Microsoft Office™ formats, Adobe PDF™, websites, blogs, chat, and email. For additional information or a demonstration on how BOBCAT can be used to defeat the terrorist threat, contact Jim Nolan.
About Decisive Analytics Corporation:
Founded in 1996, Decisive Analytics Corporation (DAC) is an employee-owned company headquartered in Arlington, VA. DAC delivers industry-leading products and services to commercial businesses, the Department of Defense, the Intelligence Community, and a wide range of other government agencies. DAC is consistently ranked among the 50 Fastest Growing Technology firms in Virginia, and the 500 Fastest Growing Companies in North America. DAC also has offices in Colorado Springs, CO, Columbia, MD, Sellersburg, IN, Richland, WA.
Contact:
Jim Nolan
Decisive Analytics Corporation
(703) 414-5002
###