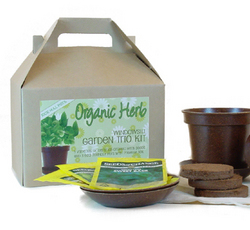 We've created an eco-friendly windowsill herb garden that is simple, elegant and is easier on the environment
Houston, TX (PRWEB) July 1, 2008
Sales of eco-friendly garden products at Olive Barn continue to expand since the release of the original eco-friendly Green3r™ pot in June 2007. Olive Barn is proud to introduce their first eco-friendly Organic Herb Garden Trio Kit designed to reduce packaging waste, save transportation fuel, while providing a better quality seed garden product. An easy and earth-friendly way to grow fresh mouth watering herbs in biodegradable pots made from rice hulls, the kit is based on the 3R's: reduce, reuse and recycle. The unique aspect of this kit is that customers can choose their own herb varieties at checkout. Olive Barn Founder, Jacqueline D'Elia says "Customers wanted an eco-friendly trio without all the Styrofoam packing found in most other kits. They also wanted a choice of herbs. Most other kits on the market are packaged in Styrofoam with specific herbs and do not give you the option of customizing it." Olive Barn's "Build Your Own" approach offers the following certified organic herb seeds in full size retail packages; Genovese Sweet Basil, Red Rubin Basil, Fino Verde Basil, Lemon Basil, Cinnamon Basil, Garden Chives, Cilantro (Slow Bolt), Dill Dukat, Sweet Marjoram, Greek Oregano, Italian Flat Leaf Parsley, Garden Sage, and English Thyme. Kits contains three pots with matching saucers, choice of three seed packages, and compressed potting mix wafers, the Green3r™ story and growing instructions. "We've created an eco-friendly windowsill herb garden that is simple, elegant and is easier on the environment," says D'Elia.
The Green3r story is based on the environmentally friendly 3R principles: Reduce, Reuse and Recycle.
Reduce: Less waste, no Styrofoam. Minimal packaging to ship the product.
Reuse: Add the decorative natural wood shavings too your compost pile. Seeds come in a reusable eco-friendly pouch for reuse again.
Recycle: The rice hull pots are all natural, 100% biodegradable and compostable and will lasts for years. That's right - these pots are not plastic! They contain no wood or petroleum ingredients, do not deplete natural resources, and decompose in the landfill. Perfect for home and garden, these all-natural pots are made from grain husks (primarily rice hulls) and natural binding agents (starch-based, water-soluble binders and biodegradable additives).
All printed materials in the kit are printed on 100% process chlorine free, 100% post-consumer recycled paper.
D'Elia added, "Now, with our carbon neutral shipping, our customers can feel good knowing that we've offset the carbon used to ship the product to them through our partnership with Carbonfund.org."
About Olive Barn: Olivebarn.com, a trend-setting online garden and home retailer based in Houston, Texas. Shipping to customers throughout the USA, they offer unique products with a focus on supporting local artisans and promoting sustainability. Visit them at Olivebarn.com
Contact:
Jacqueline D'Elia
Olive Barn Inc.
281-589-1921
###