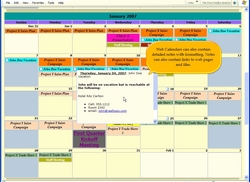 We have been looking for something this outstanding for years, just what we needed, simple and effective, just brilliant.
Beverly Hills, CA (PRWEB) July 1, 2008
Reel Logix Offers A Cost Effective Alternative For Creating Web Calendars With No Recurring Fees
The Calendar Planner calendar software from Reel Logix has been used for scheduling major motion pictures and Television shows like "24", calendars for Fortune 100 companies as well as calendars for small businesses and individuals.
The latest version of The Calendar Planner now provides a very affordable alternative to an online calendar as well. This new version allows a web calendar to be published easily from any web site with no recurring fees.
Unlike traditional online calendar systems The Calendar Planner is a software program installed locally on the user's machine. Calendars can be created offline and then published as a web calendar from any web site. This avoids two of the biggest drawbacks to online calendar systems. First, since it is software installed locally you get all the features you would expect in a full featured calendar software program that online calendar systems simply cannot provide. Second, you can publish as many calendars as you want without having to pay a monthly fee.
"The Internet is a fantastic resource for sharing information but online applications simply cannot match the feature capabilities of software and won't be able to for the foreseeable future. We have many customers that want the ability to generate web calendars but still need the features only a calendar software program can provide. Many of our customers also do not want, or simply cannot afford to pay the high cost of some online calendar systems. Some can cost a team of four as much as $4,000 over the course of a single year. At only $99.00 The Calendar Planner is a one time cost of $400.00 for the same team, so it really does offer a very affordable alternative," Marcia Robinson, COO Reel Logix, Inc.
A web calendar published from The Calendar Planner provides all the same features you would expect in an online calendar. You can add links to web sites or files like images and documents to your events that can be accessed via your web calendar. You can even add detailed notes that can be opened from the web. The web calendar can also be customized with images and color to fit any web site.
The Calendar Planner also provides a wealth of time saving features for quickly creating schedules and adjusting to changes. Features like Recurring Events, Day-Off Management, Show/Hide, Push/Pull, Schedule Rollup, Unlimited Undos, Smart Scheduling, Event Auto-size and more, saves you time and makes you more productive.
Graham Campbell of Fraser Coast Financial Services had the following to say about The Calendar Planner, "We have been looking for something this outstanding for years, just what we needed, simple and effective, just brilliant."
About Reel Logix Inc
The founders of Reel Logix Inc., have over 40+ combined years of software development expertise in the corporate Aerospace, Technology and Entertainment industry. The company is well known for its flagship products, The Reel Production Calendar, designed to manage prep, production and post for Film, Television and Commercial productions and The Calendar Planner, designed for scheduling in any industry.
For more information visit http://www.thecalendarplanner.com
Direct media questions to: Public Relations Reel Logix Inc media@reellogix.com
###