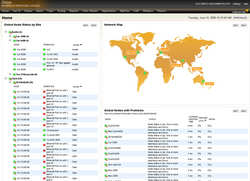 Solutions built to manage networks for companies with hundreds of employees to tens of thousands of employees, in multiple locations, are usually expensive and difficult to deploy
Austin, TX (PRWEB) July 1, 2008
SolarWinds, a leader in downloadable network management software, today announced new additions to its flagship Orion software family that extend the ease of use and quick deployment benefits of the suite for companies that run large or geographically distributed networks.
The new Orion Enterprise Operations Console (EOC) and updated Orion Network Performance Monitor (NPM) version 9, available now from the SolarWinds website, deliver comprehensive fault and network performance management that easily scales with network growth and network monitoring needs.
As the company network becomes more critical to everyday success for businesses of all sizes, network engineers need to maintain stability and quickly react to issues. Ensuring optimal network performance while managing and troubleshooting the proliferation of new devices is no small task, particularly for administrators of large, geographically distributed networks. The latest Orion offerings directly tackle this challenge without adding to the complexity - users can simply download the software and typically be up and running in around an hour.
"Solutions built to manage networks for companies with hundreds of employees to tens of thousands of employees, in multiple locations, are usually expensive and difficult to deploy," said Kenny Van Zant, chief product strategist. "Our latest additions to the Orion product family deliver on the promise of enterprise-class performance and retain the same easy to deploy, easy to use and easy to afford attributes that are the hallmark of SolarWinds' products."
Orion Offers Holistic View of the Network Performance
The Orion family of products allows network engineers to monitor, collect and analyze data from SNMP and WMI-enabled devices, providing them with a comprehensive view of their network's health. Users can view the real-time statistics and availability of their network from any Web browser, providing a convenient way for administrators to stay up to date 24/7.
The new Orion Enterprise Operations Console (EOC) provides a consolidated command center from which users can monitor the entire enterprise network. Through a single dashboard, engineers can track as few as a hundred to more than several hundred thousand network interfaces, consolidating information from remote Orion servers running Orion NPM and any of its modules. Orion Enterprise Operations Console's WAN-optimized architecture
enables large scale network monitoring without impacting WAN performance.
Orion EOC, like all SolarWinds' solutions, can be downloaded, installed and configured by any network engineer in less than an hour. Unlike complex framework solutions, this solution is designed to maximize the user's productivity immediately after install without requiring costly professional consulting support and customization.
Easy deployment means that network engineers can begin reporting critical data and updates to executives within hours instead of weeks.
Orion NPM v9 provides enhanced overall performance and functionality as well as the following new features:

Universal Device Poller - Easily collect virtually any statistic available on an SNMP-enabled device, including information stored in device MIB tables. Users can convert and combine the data using the MIB Transformation Wizard to choose how they want to see the data displayed.
Intuitive Web Administration - Use Orion's award-winning, intuitive interface to add, delete, and modify nodes from anywhere in the network. The Web-based console allows users to complete a range of node administration tasks, such as assigning custom properties to a node or editing multiple nodes at once.
Pricing and Availability
The Orion Enterprise Operations Console and Orion NPM v9 are available now. Pricing for Orion EOC is $4,995 (USD) for any number of monitored Orion servers. First year maintenance is included free. Pricing for Orion NPM starts at $2,475 (USD) for 100 monitored elements including first year maintenance. For more information, visit SolarWinds Resource Center , download a free 30-day evaluation, or call 866.530.8100.
Users can find more information, tips from SolarWinds company experts as well as peer support and perspectives on all of the SolarWinds network management products, including Orion NPM v9 and Enterprise Operations Console at Thwack.com, the SolarWinds online community site.
About SolarWinds
SolarWinds provides downloadable, enterprise-class network management software that is affordable, easy to use, and guided by a large and growing user community. Focused on the real-world needs of network professionals, SolarWinds products are simple to try, simple to use, and simple to maintain, while providing the power, scale, and flexibility needed by companies of all sizes. More than 50,000 customers from small businesses to the largest enterprises rely on SolarWinds products to take the complexity out of managing their networks. Learn more today at http://www.solarwinds.com.
SolarWinds, SolarWinds.com, Thwack.com, and Orion are registered trademarks of SolarWinds. All other company and product names mentioned are used only for identification purposes and may be trademarks or registered trademarks of their respective companies.
###