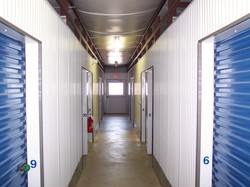 I don't see this as a bad, or a negative market, I see this as a market of opportunity and expect to close many more great deals in the months to come.
San Diego, CA (PRWEB) July 1, 2008
Equity Based Services, Inc. ("EBS") continues its momentum closing another Commercial Real Estate deal in an otherwise difficult market.
Silo Self Storage at 425 Swiss Avenue in Nashville, TN is comprised of 7 storage buildings that contain a total of 414 climate and non-climate controlled storage units and 122 covered and non-covered parking spaces. The current occupancy is near 70%.
EBS leverages the equity in its three closed Private Equity funds, as well as its more than 350 Private Equity cash investors, and qualified 1031 investors to close both cash flow and value add deals in the Self Storage Real Estate Market.
"There is so much negativity in the news lately- High oil prices, high cost of construction, a difficult and tumultuous lending market, foreclosures, a housing crisis… Amidst all of this negativity, EBS has continued to identify and close high value and high potential real estate deals with attractive financing. We've found ourselves in a market where only highly qualified sponsors can finance deals in commercial real estate. This is a very exciting and advantageous position for us and we plan on capitalizing on this and creating tremendous value for our investors," states Troy Downing, EBS Fund Manager and Principal Pilot Equity Partners. "Silo represents a great opportunity for us with large upside and room for physical expansion."
Financing was obtained from a large European lender with 3 years of Interest-Only payments, 75% leverage, and a floating interest rate based on LIBOR that is under 5%.
" This acquisition financing is indicative of the current financing environment in which well capitalized companies like Equity Based Services, Inc. with management experience and expertise are able to secure favorable financing in tight timeframes," said Saul Hoppenstein, Principal, Tavernier Capital Partners.
"Our size, capitalization, expertise, and relationships have allowed us to close another great deal. Tavernier Capital Partners came through for us once again and found us a great match with a new lender. In this market, you have to keep moving, looking under every stone, and never rest upon your laurels to succeed," states Stephen Kaplan, CEO, EBS. "I don't see this as a bad, or a negative market, I see this as a market of opportunity and expect to close many more great deals in the months to come."
Equity Based Services, Inc. currently owns and operates 53 Self Storage properties in 10 states. EBS properties are re-branded as American Mini Storage and are actively managed by EBS's in house management company, All American Property Management Inc. ("AAPMI"). EBS headquarters are in San Diego, but, operates regional hubs across the southeastern and southwestern United States.
About Equity Based Services, Inc.:
EBS is a private real estate company specializing in the opportunistic acquisition and management of self-storage commercial property. EBS currently owns and operates more than 50 Self-Storage properties in 10 states with a market value exceeding $200,000,000. EBS also manages a family of equity funds for institutional and high net worth individual investors. EBS funds invest in both stabilized income producing commercial property and value added, opportunistic commercial real estate. The EBS Income Fund, the EBS Income and Growth Fund II, and the Pilot Equity Value Added Fund all closed in 2007 and represent more than $16,000,000.00 in capital contributions. All portfolio properties are aggressively managed by All American Property Management, Inc., an EBS company, to maximize returns to Investors. For more information, contact Katie Raden at 619-220-6700.
This Press Release is for general informational purposes only and does not, in any way, constitute an offering to buy or sell securities.
###