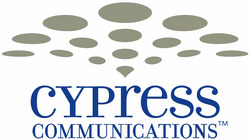 Technologies of today have the power to improve the way colleagues connect with each other and their customers, and we are excited to lead the way in making that happen
Atlanta, GA (Vocus) July 1, 2008 –-
Cypress Communications announces its fifth award for product innovation this year—Product of the Year—awarded by the editors at Communications Solutions (http://www.tmcnet.com/comsol), a publication of Technology Marketing Corporation (TMC).
Named for its ability to enable enterprises to connect, communicate, collaborate and continue™, C4 IP comes complete with integrated voice and data access, desktop phones, soft phones, advanced unified communications functionality, remote office capabilities and a host of PBX features. And with a fully hosted delivery model, C4 IP delivers users all the benefits of advanced communications with no capital expense, no worries of technological obsolescence, and no need for companies to hire and sustain additional staff to manage it.
"Technologies of today have the power to improve the way colleagues connect with each other and their customers, and we are excited to lead the way in making that happen," said Frank Grillo, executive vice president of marketing at Cypress Communications. "C4 IP is unlike any other communications solution, delivering advanced VoIP features, PBX functionality, and unified communications—all in a single integrated solution that is managed end-to-end by Cypress. We are incredibly thrilled at the success of C4 IP and are honored to receive the Communications Solutions Product of the Year Award."
TMC president and group editor-in-chief of Communications Solutions, Rich Tehrani said, "Cypress Communications has been recognized with a Product of the Year Award for their excellence in the advancement of voice and data communications. They have once again proven they are committed to quality and excellence in solutions that benefit the customer experience as well as ROI for the companies that use them. I am pleased to honor their hard work and accomplishments and look forward to more innovative solutions from them in the future."
The eighth annual Communications Solutions Product of the Year Award recognizes the vision, leadership and attention to detail that are the hallmarks of the prestigious award. The most innovative products and services brought to market in 2007 were selected as recipients of this year's Communications Solutions Product of the Year Award for their groundbreaking achievement.
About TMC
TMC is an integrated global media company that helps clients build communities in print, in-person and online. TMC publishes Customer Interaction Solutions, INTERNET TELEPHONY, Unified Communications, and IMS Magazine. TMC is also the first publisher to test new products in its own on-site laboratories, TMC Labs. TMCnet, TMC's Web site, is the leading source of news and articles for the communications and technology industries. TMCnet is read by nearly one million US visitors according to Quantcast and by over three million unique visitors each month worldwide, according to Webtrends. In addition, TMC produces INTERNET TELEPHONY Conference & EXPO, Call Center 2.0 Conference and Communications Developer Conference. For more information about TMC, visit http://www.tmcnet.com.
About Cypress Communications
Boasting a 20-year legacy and more than 6,500 customers coast-to-coast, Cypress provides Communications as a Service (CaaS) to small- and mid-sized enterprises. CaaS goes beyond traditional hosted VoIP offerings by delivering a fully managed unified communications solution. Comprehensive and flexible, the CaaS solution from Cypress includes integrated voice and data access, desktop phones, soft phones, local and long-distance voice services, voicemail, advanced collaboration tools and remote office functionality. As a Deloitte Fast 50 and Fast 500 award recipient, Cypress Communications is recognized as one of the fastest growing companies in North America. Cypress is also listed as one of the Best Places to Work in Atlanta by Atlanta magazine. Cypress is headquartered in Atlanta, and the company's Web address is http://www.cypresscom.net.
From June 16 to September 16, 2008, Cypress Communications is offering the chance for one lucky company to win 2 years of free hosted VoIP and unified communications in the Get Your VoIP On™ giveaway. Details are available online at http://www.cypresscom.net/freevoip.
© 2006-2008 Cypress Communications, Inc. The Cypress Communications logo is a service mark of Cypress Communications, Inc. C4 IP is a trademark of Cypress Communications. Get Your VoIP On is a trademark of Cypress Communications. Connect, communicate, collaborate and continue is a trademark of Cypress Communications. All other marks used herein are the property of their respective owners.
###