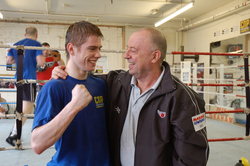 Although he's still an amateur, he's training like a pro - I've never known anyone like him - a real all-rounder. He's so fit and has got the greatest agility I've seen in any boxer.
(Vocus) July 1, 2008
The latest boxing star to emerge onto the world stage is Manchester bantamweight Joe Murray, 21, who'll be representing his country in the Beijing Olympics from August 12th onwards.
But Joe's markedly different from Olympic boxers of the past. Apart from being only the second Mancunian in history to reach the Olympic boxing finals, he's part of a growing number of boxers - including world champion Ricky Hatton - taking extra advice on diet and exercise from Kerry Kayes of CNP Professional, who is changing thinking on the subject of sports nutrition.
Joe Murray's trainer, Joe Gallagher, spotted his potential when the youngster was only 13, and has guided him to the brink of stardom in the intervening eight years. "Although he's still an amateur, he's training like a pro - I've never known anyone like him - a real all-rounder. He's so fit and has got the greatest agility I've seen in any boxer."
And helping to develop these extraordinary qualities is the radical guidance of Kerry Kayes. Kayes is the former award-winning bodybuilder, gym operator and creator of the CNP Professional supplements program. He has come to believe that much conventional thinking on sports diets is misplaced. In particular, he encourages intensive protein supplements, strict diets and drinking much more water than boxers traditionally drink.
In focusing on protein supplements and water intake, the CNP Professional protein supplements program upturns conventional wisdom. "For years boxers have cut down on food and water to stay at target weights. That's completely the wrong attitude," argues Kerry Kayes.
"As a boxer's training gets more intense nearer the fight he needs more nutrients to help his body repair and recuperate from the positive stress of training. But he still has to stay in weight to make the weigh-in. So he can't get all the nutrients from his food alone because then he'd end up taking in too many Kcalories. CNP protein supplements ensure that he gets the high amount of nutrients he needs in a low Kcalorie environment."
In May, before leaving for three weeks of acclimatisation training in China, Joe Murray experienced the first fruits of fame as he greeted the Manchester United home crowd on the hallowed turf of Old Trafford. He also travelled to Downing Street in April to meet the Prime Minister, a source of pride for Gallagher, who says that boxing is an ideal way for boys from any background to get the best out of life.
Joe leaves for China again on July 22nd, ready for his fights in mid-August. If he returns to the UK with a medal, will he stay an amateur to defend it in London in 2012, or be tempted to turn pro? While his older brother John, himself an undefeated star in the lightweight division, turned pro at 18, Joe remains undecided.
Gallagher's pride in Joe Murray is that of a genuine Mancunian. "Joe is only the second man in history from Manchester to get to the boxing finals of the Olympics,and the first from Manchester to win a medal at the World Boxing Championships, where he won bronze in Chicago in 2007.
"Not all great Olympic fighters come from London, even if they end up going there in 2012!"
Kerry Kayes emphasises that the benefits of CNP protein supplements and extra water are ideal for all active sportspeople, not just boxers. "Anyone working to peak physical fitness can benefit," he says.
CNP Professional is one of the UK's leading sports nutrition specialist companies. For more information visit http://www.cnpprofessional.co.uk or call +44 (0) 161 320 1212 for sports nutrition advice and +44 (0) 161 320 8145 for sales.
Joe Murray.doc – July 08
Press enquiries: Toni Turner or Alison Haynes at The Publicity Works
Tel: +44 (0) 1263 761000 Email: cnp @ publicityworks.biz
Paul Riley, Marketing Manager, CNP Professional: +44 (0)161 320 8145
Photography is available in a choice of formats on request from cnp @ publicityworks.biz
Notes for editors
CNP Professional is a leading supplier of sports nutrition supplements ranging from protein shakes, protein bars, creatine supplements, meal replacements, mass gainers, weight loss supplements and post work out shakes all designed for the ultimate in sports nutrition.
Kerry Kayes, the founder of CNP Professional is a former national bodybuilding champion. He has been involved in sports nutrition for many years and his dietary expertise has established him as 'the man in the know' to sportspeople worldwide including boxer Ricky Hatton, Sean Long of St Helen's RLFC and David Dunn of Blackburn Rovers.
CNP Professional supplements are carefully formulated to ensure that the body is able to make best use of the nutrients. Unlike some protein supplements, CNP Professional's products are easy to drink - in fact, the Pro Slam only takes 5 seconds.
There are several articles explaining protein nutrition supplements on the CNP website - go to the home page and click on 'nutrition' under the articles section.
A guide to Joe Murray's diet :
At the heart of the training /weight-loss Kerry Kayes approach is the CNP Professional 'Pro' range of protein supplements. It starts off in the morning with Pro CLA, capsules of a healthy fat that have been shown to help reduce bodyfat whilst retaining and possibly helping to increase muscle tissue.
For breakfast the sportsman enjoys Pro MR or Pro Peptide - blends of undenatured "fast and slow" proteins - sometimes with porridge, as well as Pro Vital (high strength multi-vitamin/mineral/antioxidant formula capsules) and Pro Lipid, an EFA supplement delivering unique ratios of Omega 3, 6 & 9 and cholesterol-lowering plant sterols. Around 45 mins before training, on leaving home, he will take Pro GF, a formula of creatine and nitric oxide which helps water hydrate the body during the workout.
Immediately before all hard exercise comes a serving of Pro Slam, a ready-to-drink vial that delivers 27 grams of protein without carbohydrates or fats in only 86ml. It comes in three delicious fruit flavours and can be drunk in seconds, delivering a 'tingle' that shows it's working quickly. Immediately after the workout he'll take a Pro Recover, a recovery drink containing fast-acting carbohydrates and proteins that aid muscle repair and growth, as well as antioxidants that help to limit the muscle damage caused by intense exercise.
If the sportsman feels really hungry for a snack, he's advised to eat a Pro Flapjack, combining the complex carbohydrate of oats, with a high-protein blend, without the high sugar and fat content of most commercial products.
The biggest meal of the day usually comes in mid-afternoon, with chicken, fish or turkey accompanied by potatoes, rice or pasta, and - naturally - plenty of green vegetables, followed by relaxing to digest the meal properly.
An evening run would be preceded by a Pro Slam, with a Pro Recover afterwards, with more Pro Vital and Pro Lipid capsules during the evening, and Pro MR again shortly before bed, to ensure the body has nutrients to repair and recover during the night.
###