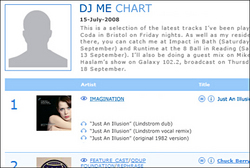 (PRWEB) July 2, 2008
In the ever-changing world of dance music, the DJ chart is crucial. With over a thousand new dance records and downloads released every week, many by obscure and anonymous artists and labels never heard of before (and often never to be heard of again), DJs' recommendations are essential for the dance music lover searching for the music that matters. And DJs, keen to maximise their profile in a highly competitive club scene, use their charts for a vital source of publicity.
Now, pioneering dance music web stores Juno Records and Juno Download have introduced a unique, user-generated system for bringing DJ charts into the web 2.0 age. A new feature on Juno's web sites allows DJs to build charts instantly, using a one-click system that allows access to every available new dance release. The DJ can then publish his chart and distribute it by e-mail, link them to their Myspace or Facebook page, or tag them on bookmark sites like Delicious, Digg, StumbleUpon and Reddit.
The new system has already proved popular, with charts created by big-name DJs like Jerome Sydenham, Mark Farina, Rolando, Dan Curtin and Rui Da Silva. But unlike traditional DJ charts features, access isn't limited to superstar DJs - any user can create a chart. Some of the most interesting charts have come from unknown DJs picking eclectic selections of lesser-known gems that would often go un-noticed.
Juno Records DJ Charts
Juno Download DJ Charts
###