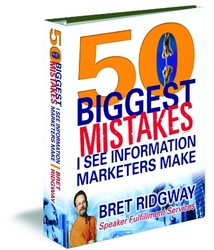 New Information Product Development and Launch Checklist
Terre Haute, IN (PRWEB) July 3, 2008
Terre Haute, IN July 3, 2008 -- Bret Ridgway, co-founder of Speaker Fulfillment Services prepares to launch on July 4th his new course 50 Biggest Mistakes I See Information Marketers Make.
To complement its own new product launch, Speaker Fulfillment Services is making available a free copy of its "New Information Product Development and Launch Checklist" designed for those involved in the information marketing industry.
For Ridgway, creating the 50 Biggest Mistakes course was inevitable.
"Over the last few years we've had a great window to view what information marketers are doing well, and what they're not doing so well," Ridgway said.
"We've seen some great new product launches and we've seen some great products shrivel up and die because mistakes were made that could have been avoided."
The course was put together, Ridgway said, to help those in the Internet marketing and information marketing industries avoid the mistakes that he and the staff at Speaker Fulfillment Services have seen made and, therefore, help improve the chances of success for both new and veteran Internet and info marketers.
50 Biggest Mistakes offers a wealth of information that Ridgway has gathered in his over 20 years in the marketing industry - tips that reveal how to recognize, avoid, and eliminate mistakes from activities and communications found in a company' marketing plan, or lack of one.
For example, Ridgway believes it's so easy each day to get bogged down in the little details of the information marketing business that a person forgets to invest any time in actually building his/her business.
Not Investing Some Time Every Day on Marketing is # 4 on Ridgway's 50 Biggest Mistakes list. Ridgway offers the following suggestion he learned from Internet Marketing legend Armand Morin:
Spend at least five minutes every day on some business-building marketing activity. Maybe it's an email promotion, or maybe it's a couple of phone calls to potential joint venture partners to get a commitment to participate in an coming new product launch. Or maybe it's lining up an article writer to generate 50 new articles on information marketing.
This doesn't mean you should do it all, Ridgway cautions -- just be sure someone in the organization is investing some time in marketing every day. A company's long-term success depends on it.
To pick up a free copy of Bret Ridgway's "New Information Product Development and Launch Checklist" and for more information on the course visit http://www.50BiggestMistakes.com
About Speaker Fulfillment Services:
Speaker Fulfillment Services, a company Ridgway co-founded with Bryan Hane in 2003, provides authors, speakers, and information marketers with product duplication and fulfillment services. For more information about these services visit http://www.SpeakerFulfillmentServices.com.
Contact Information:
Patricia A. Farnsworth
Marketing Assistant
Speaker Fulfillment Services
812-877-7100 ext.106
http://www.SpeakerFulfillmentServices.com
###