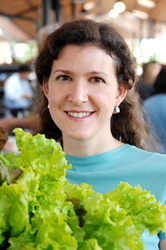 We are a pre-packaged, convenience food society and our food choices reflect that
Minneapolis, MN (PRWEB) July 2, 2008
Natural foods educator Jennette Turner launched her redesigned online meal planning service this summer, marking the second year of helping people eat more healthfully, economically and creatively. Dinner with Jennette--Meal Plans for Naturally Healthy Eating (http://www.dinnerwithjennette.com)] offers subscriptions for 12 month's worth of nutritionally-balanced, seasonal meal plans, complete with recipes, nutrition information and shopping lists. Designed to inform and empower, Dinner with Jennette enables subscribers to explore new food ideas and to enjoy preparing them.
Each month, Dinner with Jennette posts 12 meal plans and recipes developed for their variety, flavor and nutritional value--all using natural foods, nothing processed or refined. Created for families, singles, and even for company, the meals are also suitable for gluten-free diets, and can be adapted for vegetarian and casein-free preferences. A one-year subscription to download the meal plans is $60.00.
Commitment to Natural Foods:
Turner, who has been in practice for ten years, is committed to helping people reap the benefits of wholesome natural foods and the role they play in attaining and maintaining optimal health. "It's simple," Turner said, "our bodies are designed to work their best when they get nutrients from natural foods--technology hasn't invented anything better. When foods are highly processed or refined, they are stripped of their health-supporting nutritional value."
As a frequent lecturer and nutrition consultant, Turner recognized that people are often intimidated by how to purchase and prepare foods in their natural state. "We are a pre-packaged, convenience food society and our food choices reflect that," she stated. Turner created Dinner with Jennette as an education tool and as a practical, user-friendly approach to better eating. "We are barraged by mixed messages, so my goal is to demystify natural foods and create tasty ways to prepare well-balanced meals."
Nutritiously Balanced Meals for All Seasons:
Turner uses the changing seasons as her inspiration for each month's meal plans. In summer, she incorporates Farmer's Market favorites such as Grilled Turkey Cutlets with Nectarine Salsa and Sunny Summer Squash Soup. In the fall such dishes as Classic Meatloaf and Parsnip Soup and Pasta with Pumpkin Sauce & Crispy Sage may be on the menu. During the winter months, Turner creates new ways to use holiday meal leftovers, such as the one-dish wonder, Warm Thanksgiving Pasta Salad. Also included in her monthly offerings are recipes for The Basics: How to make the perfect chicken stock (and why homemade is so nourishing), and Bonus Recipes such as Mini Strawberry Custard Cakes.
Convenient, Adventurous and Economical:
In its first year, Turner has encouraged feedback from her customers and has enhanced Dinner with Jennette accordingly. Subscribers requested such additions as vegetarian or casein-free options, meals for entertaining (now known as "Company Meals"), and healthy kid-friendly treats (cheezy crackers and caramel corn). "It has to be useful and convenient," acknowledged Turner, "but most of all, the meals have to be delicious." Her simple, yet creative, recipes incorporate a variety of familiar and new flavors with traditional American, Mexican, Indian and Asian dishes, most of which can be prepared in 30 - 45 minutes or less.
Dinner with Jennette's passionate subscribers cite how the service has trimmed their grocery bills because they waste less food or eat at home more often. Turner has heard how customers appreciate organized meal planning, the convenience of ready-made shopping lists, and the confidence they feel preparing nutritionally balanced meals. As the mother of a four-year-old, Turner is especially gratified when she hears that the meals are as big a hit with children as they are with adults, and how customers have enjoyed the fun and ease of cooking them.
Subscription Purchase Information:
Created by natural foods educator Jennette Turner, a subscription to Dinner with Jennette offers 12 balanced meals each month for one year. The annual fee delivers 144 meal plans with recipes, nutrition information and shopping lists, accessed and downloaded from the Web site. To subscribe, visit http://www.dinnerwithjennette.com.
###