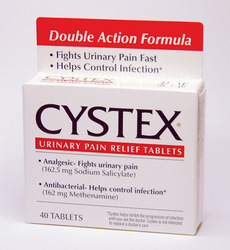 Urinating regularly during the day and emptying the bladder completely each time will purge the bladder of bacteria, while urinating after sexual activity will help flush away any excess bacteria that may have been introduced to the urethra during the act
New Jersey (PRWEB) July 2, 2008
If you think sex and urinary tract infections (UTI) go together, you're not alone. A Harris Interactive survey conducted for the urinary pain relief medication, Cystex®, reveals that 14 percent of young women ages 18-34 believe that sexual intercourse was the direct cause of their last urinary tract infection (UTI).
Not necessarily so, say the experts. "It's not the act of intercourse that directly causes UTIs, but rather certain aspects overall of sexual relations, such as certain positions and contraceptive methods, which can increase one's risk for this infection," according to Elizabeth Kavaler, M.D., noted urologist and author of the book, A Seat in the Aisle Please! The Essential Guide to Urinary Tract Problems in Women (Copernicus Books, 2006).
"Women find themselves experiencing UTIs more often then men because of their anatomy: their urethras are shorter, and unfortunately, this structural issue allows bacteria from the anal-vaginal areas to reach the urethra and therefore the bladder, more easily," explains Dr. Kavaler, who has a busy practice in Manhattan and is one of just 500 female urologists practicing in the U.S. today.
While women may be more prone to UTIs due to their anatomical structure, she adds, many of them are confused by this and think that UTIs are sexually transmitted, which they are not.
Before frolicking between the sheets, Dr. Kavaler suggests avoiding certain positions, such as the missionary position, in which a man is riding high on the woman's pelvis. "The awkward alignment can cause a lot of friction and rubbing near the woman's urethral opening, leaving it susceptible to infection," Dr. Kavaler adds.
When it comes to contraceptive choices, Dr. Kavaler believes the best way to prevent UTIs and stay protected is to combine the use of condoms and birth control pills. Some barrier contraceptives, such as diaphragms, sponges and spermicidal jellies containing nonoxynol-9, which has been associated with increased UTI risk.
Another important sexual health tip and UTI preventative measure is to drink four glasses of water a day to irrigate bacteria out of the bladder and to urinate after having sex, before falling asleep. "Urinating regularly during the day and emptying the bladder completely each time will purge the bladder of bacteria, while urinating after sexual activity will help flush away any excess bacteria that may have been introduced to the urethra during the act," says Dr. Kavaler.
For some women who have recurrent UTIs (more than three in one year) associated with sexual activity, their healthcare provider may prescribe a prophylactic antibiotic - or "postcoital pill - a single pill taken immediately following intercourse. "But the frequency of intercourse has no bearing on the therapy," she explains. "Whether you are having relations seldom or frequently, if you believe that intercourse leads to your getting a UTI, you can take a pill after sex."
For women who are concerned with taking too many antibiotics, Dr. Kavaler suggests taking the over-the-counter (OTC) urinary medication Cystex® a few hours before engaging in sexual activity. "This non-prescription medicine contains a mild antiseptic ingredient that helps keep bacteria from clinging to the walls of the urinary tract, and thereby helping to prevent a UTI from actually occurring."
For more information on urinary tract infections, including infection prevention and treatment tips, visit http://www.cystex.com.
The site also features a bathroom-finder (by city) - in partnership with the Bathroom Diaries - helping women to find clean and accessible ladies rooms across the United States and the Ladies Room Blog where women can share their thoughts and experiences with UTIs, remedies and all things "urological."
###