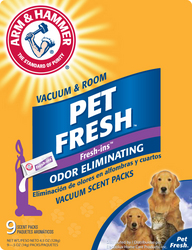 Fresh-ins are a unique solution for consumers who want to safely and naturally neutralize home odors while vacuuming without any additional work or hassle
Bloomington, Ill. (PRWEB) July 9, 2008
Vacuums are getting a fresh take on life, thanks to all-new ARM & HAMMER® Pet Fresh™ Fresh-ins™. A brand-new concept in vacuuming, Fresh-ins are small white pouches packed with the natural power of ARM & HAMMER® baking soda that are emptied into a vacuum bag or dust cup. The crystals inside each packet neutralize odors inside and outside the vacuum. From pet smells to musty closets, Fresh-ins eliminate unpleasant odors and leave a fresh, clean scent in the air after vacuuming.
"Fresh-ins are a unique solution for consumers who want to safely and naturally neutralize home odors while vacuuming without any additional work or hassle," said Leiah Miller, product manager for ARM & HAMMER vacuum bags, filters and accessories. "Fresh-ins add an extra punch of deodorization to eliminate strong, unpleasant odors without the use of harsh chemicals and also leave behind a fresh scent."
As Fresh-ins neutralize the air, they also release ARM & HAMMER's most popular fragrance, a light, neutral Pet Fresh scent, into the home. Fresh-ins can be used with both bagged and bagless vacuums, and were designed to be poured into each new bag or emptied dust cup. The hard-working crystals also eliminate static in the dust cup, making it easier to empty and clean bagless vacuums. Fresh-ins also can increase the deodorizing power for consumers who already use ARM & HAMMER vacuum bags and filters to fight pungent odors with the safe, natural power of baking soda.
In addition to the introduction of Fresh-ins, ARM & HAMMER is expanding its line of vacuum accessories to include vacuum bags and filters for consumers with pets. This new Pet Fresh line was developed with two times the odor-fighting power of traditional ARM & HAMMER bags, and packs a powerful punch of baking soda to eliminate difficult pet smells and organic odors such as mold, bacteria and fungi. They also filter out pet dander, mold spores, dust and other allergens lurking in the home.
"We've designed a full line of products with pets - and pet owners - in mind," said Miller. "Fresh-ins and the ARM & HAMMER Pet Fresh line of vacuum bags and filters make it easier than ever to remove pet odors while simultaneously cleaning floors."
ARM & HAMMER Fresh-ins will be sold exclusively at Wal-Mart stores and walmart.com beginning in July. Consumers can find Fresh-ins scent packs, which retail for $2.48 for a package of nine, in the vacuum aisle. The Pet Fresh line of bags and filters services the most popular brands and models of vacuum cleaners and retail for $2.73 and up. For more information, consumers can visit armhammervac.com.
The ARM & HAMMER vacuum accessory line is distributed by Electrolux Home Care Products, Inc., the producer of leading floor care brands Eureka and Electrolux, in cooperation with Church & Dwight Co., Inc., owner of the ARM & HAMMER brand.
The ARM & HAMMER, and Pet Fresh names are trademarks of Church & Dwight Co., Inc.
# # #