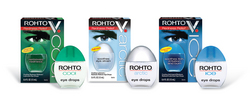 Using eye drops will help moisturize your eyes, which will reduce redness and irritation
Orchard Park, NY (PRWEB) July 2, 2008
Whether it's a late night at the office, on the town or just trouble getting some shuteye, your dry, red eyes will let everyone know that you haven't been resting up.
According to Leonard J. Press, board-certified optometric physician in Fair Lawn, N.J., today's lifestyles make it hard to wind down after a long day and red eyes are almost an inevitable result. But, there are ways to combat it.
"When you don't get enough sleep, your eyes haven't had enough time to refresh themselves. As a result, the blood vessels near the surface of the eye become enlarged and dilated, causing the bloodshot look," says Dr. Press. "The best remedy is, of course, to get more sleep, but there are different things you can do to get rid of your red, dry eyes."
Dr. Press offers his tips to look presentable for a day after a sleepless night:

Steer clear of contacts: If you are a contact lens-wearer, you might want to put on your glasses after a night of little or no sleep. "Wearing contacts might further irritate your eyes if they're already red and dry to begin with," says Dr. Press. "Opting for eye glasses will allow your eyes to irritated eyes to breathe, which will keep redness to a minimum."
"Whiten" up: Reaching for a bottle of eye drops will go a long way after a long night. "Using eye drops will help moisturize your eyes, which will reduce redness and irritation," Dr. Press says. "I recommend trying ROHTO® cooling eye drops, which can make your eyes much more comfortable."
Break out: When you haven't gotten any sleep, sitting in front of a computer screen all day - large or small - will further inflame your eyes, making them dry and fatigued. "It's important to take breaks throughout the day," says Dr. Press. "Schedule a time to make a group of phone calls to give your eyes a rest and take short walks away from your desk for several minutes per hour."
ROHTO® eye drops are available in three formulations - Cool, Ice and Arctic - and are available at most drug, mass and grocery outlets nationwide, as well as online at drugstore.com.
For more information and eye care information, visit http://www.cool4eyes.com.
*Survey Methodology
This survey was conducted online within the by Harris Interactive via its QuickQuerySM online omnibus service on behalf of ROHTO between April 4 and 6, 2007, among 2,402 adults aged 18 and over of whom 437 were aged 18-29.
###