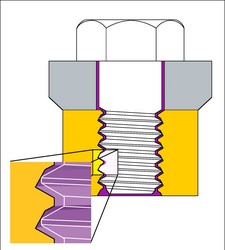 The self locking fasteners and internal thread form helped us achieve vibration-resistant locking in our bus design that can withstand seismic, shipping, operational or thermal-related forces for the life of the product
Torrance, CA (PRWEB) July 2, 2008
For electrical engineers combating seismic, shipping or operational forces while working in soft materials prone to stripping or joint failure, self locking threaded fasteners and thread locking self locking fasteners cannot be viewed simply as commodities.
Engineers, however, have successfully attacked these challenges while providing new electrical design options with innovative Spiralock self locking threaded fasteners. This re-engineered thread form adds a unique 30-degree wedge ramp at the root of the female thread which mates with standard 60-degree male thread fasteners.
The wedge ramp of the self locking threaded fasteners allows the bolt to spin freely relative to female threads until tension is created in the male fastener. The crests of the standard male thread form are then drawn tightly against the wedge ramp, eliminating radial clearances and creating a continuous spiral line contact along the entire length of the thread engagement. This continuous line contact spreads the clamp force more evenly over all engaged threads, improving resistance to vibrational loosening, axial-torsional loading, joint fatigue, and temperature extremes.
The innovative threaded fasteners with a locking feature integrated into the thread form compensates for variations in manufacturing tolerances and processing. This locking feature enhances joint reliability even in soft materials and can reduce costly warranty claims or potential liability. It also opens new electrical design options by eliminating the need for secondary thread locking devices or procedures, thus simplifying assembly and inventory management. The fasteners have been used in thousands of manufacturing applications to solve design challenges in a wide range of industries.
Eaton Corporation's electrical division chose the Spiralock fasteners and internal thread form for its Cutler-Hammer brand metal enclosed front (MEF) accessible switchgear. When secured at the factory, the self locking threaded fasteners and internal thread form are capable of holding the MEF switchgear's bus joints secure for decades, according to
Paul Parker, a senior engineer with Eaton's electrical division, part of Eaton Corporation, a diversified industrial manufacturer with sales of $13 billion in 2007.
"The self locking fasteners and internal thread form helped us achieve vibration-resistant locking in our bus design that can withstand seismic, shipping, operational or thermal-related forces for the life of the product," says Parker. "By helping us attain a
no-maintenance bus design, the Spiralock fasteners and internal thread form opened up new design possibilities."
Production changeovers to these self locking fasteners are typically quick and seamless, often requiring just an exchange of traditional nuts, wire inserts or simply drilling out and re-tapping existing parts stock.
Spiralock
Kate Turowska
Madison Tech Center
PO Box 71629
Madison Heights, MI 48071
KTurowska @ spiralock.com
http://www.spiralock.com
Phone (800) 521-2688
###