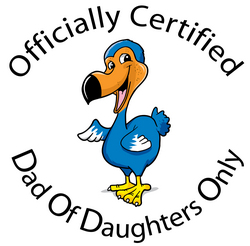 By seeking feedback from other men who have been there, done that and have the T-shirt, they'll walk away with a better understanding of the stresses and challenges they face as well as practical ammunition for them to use in fighting for their families
Stoughton, WI (PRWEB) July 9, 2008
While any man can be a father, it takes a DODO to raise a daughter.
So says Greg Gerber, founder of the International Affiliation of Men Admired as Dads Of Daughters Only (Dads of Daughters Only). Gerber announced today the official launch of a website creating an online community of fathers who are challenged and privileged to raise daughters.
"I'm proud to be a DODO," said Gerber, a 47-year-old father of three daughters ages 18, 19 and 21. "In fact, most dads of daughters I talk to wouldn't trade the experience for anything."
Although the term "DODO" traditionally refers to those men who have fathered girls only, Gerber said the term really applies to any dad raising daughters. For example, a man might be a:

Dad of Daughters Occasionally - A father with more boys than girls, or a guy with visitation rights
Dad of Daughters Often - A dad with more girls than boys
Dad of Daughters Originally - A guy who had girls first, followed by a son or two
Dad of Daughters Optimally - A dad with several sons and just one delightful daughter
What about stepfathers? They would be SOSO DODOs, said Gerber - or dads of daughters only raising some other spouse's offspring. Even GOGOs - grandfathers of granddaughters only - would find value and camaraderie at the site.
"Whether a guy is trying to raise one special princess or a gaggle of giggling girls, he's in a tough spot and needs all the male support he can get," said Gerber.
The iamadodo.com website was created to provide a humorous approach to parenting as well as to offer practical information and a support network to help men become better dads. The site features:
Current news articles depicting positive father/daughter relationships, or stories of general interest to dads
An interactive forum where dads can share ideas or discuss any topic with other men
Fun stuff, including a section titled "Girlspeak" to help dads understand what their daughters are really trying to say
Dear DODO, a tongue-in-cheek advice column for besieged dads
Pictures and videos of dads and their daughters
Movie reviews of family-friendly films and DVDs
An online store featuring great gifts for dads of daughters
"The DODOs I know are good men trying to be great fathers," said Gerber. "Sure, they'll make mistakes, especially in trying to transform girls into young women. But they are tired of being told they are screwing up their kids, that fathers aren't important and that they aren't doing enough to help their families.
"Truth be told, family is very important in the lives of most men and their daughters are the absolute joy of their lives," said Gerber. "This site celebrates the unique role of men who choose to risk financial security and personal sanity only to endure radical mood swings, princess movies, doll parties, exposed belly buttons, frequent shrieking, routine tears and the slamming of many doors by a creature with an insatiable appetite for spending other people's money - namely her father's."
The goal in creating the online community is to allow fathers to help each other by sharing practical, battle-tested ideas on how to teach and train their daughters. By showing men what other dads are doing or have done, Gerber said the group will provide guys with a virtual smorgasbord of practical ideas which men can adapt to fit their unique situations.
"When it comes to raising kids, men are often exposed to a lot of theories offered by well-meaning psychologists or spouses trying to be supportive. They are often left more confused at the end than when they started the journey," said Gerber. "Men usually have no problems relating to boys and raising them into men. But girls are different. They think differently, act differently and react differently to what their fathers do. That's why most DODOs are balding. In frustration, they pull their hair out in clumps."
Sometimes men feel all alone in trying to impose standards and a moral code upon their children and in trying to lead their families, Gerber explained. That is especially true when it comes to girls. Should fathers hug their daughters or wrestle with them? Should they take them shooting or shopping? What can a dad say or do when his daughter's heart has been broken? How can he motivate her to achieve her full potential when he sees her watching endless reruns on television? What should dads do when they disagree with their wives over things like their daughter's appropriate dress or spending habits?
"By seeking feedback from other men who have been there, done that and have the T-shirt, they'll walk away with a better understanding of the stresses and challenges they face as well as practical ammunition for them to use in fighting for their families," said Gerber. "DODOs will appreciate knowing there is an international brotherhood of fathers who not only feel their pain but have their backs covered, too."
Women frequently tease men about wanting to do everything themselves and never stopping to ask for or read directions, Gerber said. Because men are generally independent, that's true in a sense. But men usually have no problem seeking advice from other men in informal settings, such as on the golf course or when barbecuing a beast in the backyard, he added.
"The old adage 'iron sharpens iron' is certainly true when it comes to parenting girls," Gerber said. "In my home, I frequently suffered from estrogen overload - even the pets were female. I found great comfort in talking over problems or bouncing ideas off other men because it proved to me that I wasn't nearly as whacked as my daughters or my spouse may have led me to believe.
"In launching the iamadodo.com website, I'm taking that life-giving forum I enjoyed in my little community of 12,000 and taking it to the world. We will likely employ a more humorous approach to fatherhood than men are likely to find on other sites," said Gerber. "After all, if we can't laugh at the predicament in which we find ourselves, we're doing ourselves and our daughters a major disservice. And we're in for one heck of a tough time in trying to become the best DODOs we can be."
###