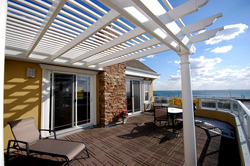 Rockaway Park, NY (PRWEB) July 3, 2008
Large crowds yielded a record number of binders during The FrameWorks Group's Grand Opening of the Waterfront Phase of the Belle Shores community. The Seaside section of Rockaway Park's premier luxury builder opened it's newest units to hundreds of potential real estate buyers seeking a home in one of the only beachfront communities left in New York City. Belle Shores is located on Shore Front Parkway between Beach 101 and 100 Street, directly across from the boardwalk.
Potential buyers swarmed the Open House on Saturday, June 28 and Sunday, June 29 to get a glimpse of the much anticipated condo units which boast unspoiled views of the ocean and are literally steps away from 7 miles of boardwalk. With 92% of Phases 1 and 2 completely sold out, and more than 50% of the overall complex sold, the Waterfront Phase gives serious buyers the opportunity to own a home in an up and coming community. The Belle Shores community sits in the hub of the Seaside area of Rockaway Park along the Queens peninsula, which is bordered by the Atlantic Ocean and Jamaica Bay. With direct ferry service to downtown Manhattan, mass transit within walking distance, and reasonable proximity to various highways, the Belle Shores is a convenient primary residence or weekend get-away destination that offers an unsurpassed beach living lifestyle.
This 78-unit luxury condominium development is designed for 'lifestyle conscious' urban dwellers seeking to escape the city pace, but not its proximity. Belle Shores offers Tuscan-styled architectural finishes complete with stucco and stone facades, landscaped grounds with private front yards and old-fashioned street lamps. To suit your living needs their 2 to 3 bedroom layouts range in size from 980 to 1,720 square feet. Prices range from $499,000 to $999,900 with a 15 year property tax abatement and a low monthly maintenance started at $100.
The sensational staff at Belle Shores is showing models for as long as units are available. For a glimpse into seeing what it means to live at Belle Shores, contact The FrameWorks Group at 718.474.2867 or visit http://www.BeachfrontNYC.com
Please contact Darcie Rowan, 718.336.0716; Darcie @ mcallrow.com for interviews with company principles or additional information.
###