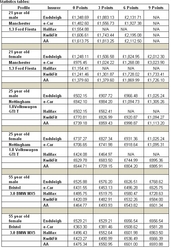 Cardiff, UK (PRWEB) July 3, 2008
Recent Confused.com research shows that young drivers are significantly penalised for receiving points on their licences. For example, a 21-year-old female from Manchester, driving a 1.3 Ford Fiesta would suffer a 92% increase - or £895 difference - in her car insurance premium as a result of receiving six penalty points on her licence. Worse than this, nine penalty points would mean a 210% increase - or £2048.
Interestingly women in their fifties face higher premiums than their male counterparts when hit with penalty points. While a 55 year old man from Bristol driving a 3.0 litre BMW MX5 would see a 49% increase after receiving six points on his licence, a woman with the same credentials faces a whopping 81% rise in her car insurance premium.
Carlton Hood, chief executive officer of Confused.com, said:
"As well as suffering from additional insurance costs immediately after gaining points on a licence, motorists are often asked by insurance companies whether they have received points in the last five years. If the answer is yes, insurance premiums remain high long after the points have expired. However, steep financial penalties do not seem to be acting as a deterrent, with a worrying 3.2 million driving convictions recorded on Confused.com in the last twelve months.
"While speeding is a tempting option for some, we would advise our customers to think carefully before making poor driving decisions. Saving two minutes on your journey time by skipping a red light or driving over the speed limit not only endangers yourself and others around you, but you are risking a large fine, a tarnished licence and potentially higher car insurance premiums."
Notes to editors
For further information please contact:
Caroline Spindlove
Confused.com
02920 434 398
Gug Kyriacou/ Joanna Harte
Polhill Communications
020 7655 0550
About Confused.com:
Confused.com is one of the UK's biggest and most popular price comparison services. Launched in 2002, it dominates the car insurance aggregator market with a massive 70% market share and generates over one million quotes per month. It has expanded its range of comparison products over the last couple of years to include home insurance, travel insurance, pet insurance, van insurance, motorbike insurance, breakdown cover and energy, as well as financial services products including credit cards, loans, mortgages and life insurance.
Confused.com has 62 motor insurance partners, and customers can save up to on average £208. It also has a panel of 43 for home insurance, and customers who use Confused.com for home insurance can expect to save up to £193.
Confused.com is not a supplier, insurance company or broker. It provides a free, objective and unbiased comparison service. By using cutting-edge technology, it has developed a series of intelligent web-based solutions that evaluate a number of risk factors to help customers with their decision-making, subsequently finding them great deals on a wide-range of insurance products, financial services, utilities and more. Confused.com's service is based on the most up-to-date information provided by UK suppliers and industry regulators.
Confused.com is owned by the Admiral Group plc. Admiral listed on the London Stock Exchange in September 2004. Confused.com is regulated by the FSA.
# # #